Julie Peasgood explains how she fell in love with Cornwall's seaside while filming her latest project.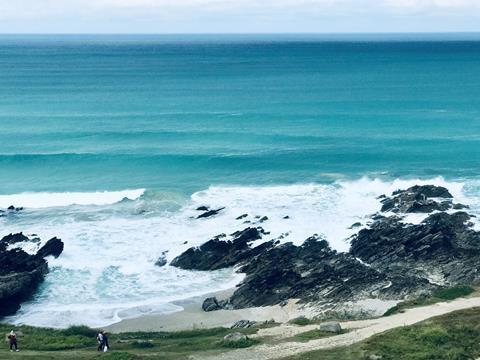 Run sound…speed…rolling…ACTION! This has been my daily diet for the last two weeks; an idyllic fortnight spent in Cornwall, shooting a fairy-tale German romance. I am playing a Texan tarot card reader, and even though my accent may at times stray from the required Southern drawl, it doesn't really matter because the British actors will later be dubbed into German.
An amusing coincidence for me (given this column) is that my character is part of a group who are on a coach tour around Cornwall's most iconic sights. But it's not plain sailing by any means; our group leader in the story is besieged with problems from start to finish.
To begin with, the 5* hotel we're all booked into suffers severe water damage, resulting in everyone being forced to stay in the one remaining hotel with any vacancies, which is unfortunately only half built. We're all quite happy though - in fact I declare "hot diggedy dawg – this place has a real good aura!" (Well, OK, I might not use those exact words, but you get the picture…)
Our guide has a blazing row with a man she thinks is the head workman, who then turns out to be the owner of the hotel, and things go from bad to worse when an elderly gentleman on the tour goes missing on the top of a cliff. Plus the most bad-tempered member of our group is discovered to be a top travel journalist, whose review of the experience could threaten the whole venture.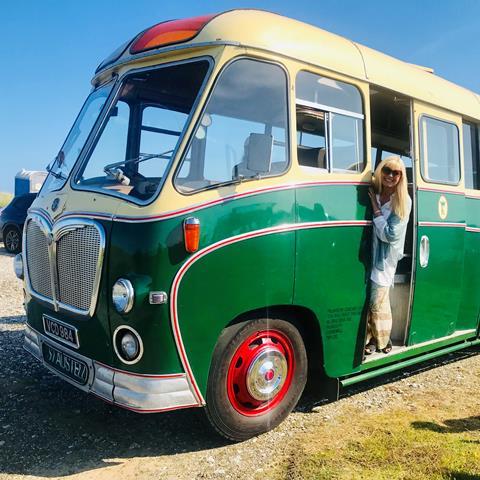 Suffice to say there is a happy ending. The elderly gentleman is eventually found, the review when published is in fact very favourable, and the group leader and the hotel owner fall passionately in love (with my tarot cards naturally predicting they'll live happily ever after).
In keeping with the story's ending, this has been the happiest of jobs and a lot of the credit has to go to the award-winning Headland Hotel, on Newquay's breathtaking Fistral Beach, where I stayed whilst filming. Made famous in 1987 as the location for Roald Dahl's The Witches movie, it has the finest view I have ever enjoyed from a hotel room. And I'm in good company - Anjelica Huston, star of the film, also stated she 'had the best sea view in the world'.
Each morning I woke up to the sound of waves crashing on the rocks below, and a panorama so reminiscent of Kirrin Island that I was almost tempted to fish out my old Enid Blytons and re-read them immediately (if I wasn't filming I'd start looking for secret passageways). There were surfers riding the waves from dawn till dusk and I didn't turn the TV on once - the view is entertainment enough.
The inside of the hotel didn't disappoint either; it's immaculate throughout, with an expansive grand lounge; luxurious sofas alongside original Lloyd Loom furniture, and a huge, wrought-iron staircase. The spa is impressive too offering a variety of massages and treatments, with both an indoor and an outdoor pool and a nine-hole pitch and putt course. Duty Manager Paul Powell and Concierge Sarah Gaskin were the icing on the cake; friendly, knowledgeable and attentive, they were keen to point out the benefits for groups (such as room upgrades and a lovely separate dining room if available) in the stylish yet classic family-run hotel.
I know I'll be back with my family as soon as I can - for that superb sea view and because, just like the hotel in our film, it does have 'a real good aura!

Travel expert and TV presenter, Julie Peasgood is a regular columnist for Group Leisure & Travel.