Julie Peasgood on a visit to RHS Wisley in Surrey and hunting for a bargain at Linconshire's Hemswell Antiques Centre.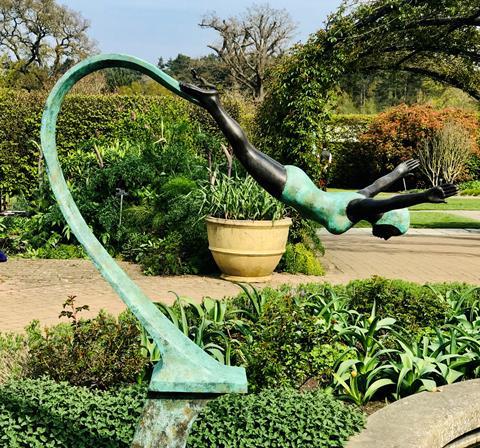 It's a close competition between a dandelion and a diva at RHS Wisley. Mark Swan's 'Diva' arcs gracefully over a pond, suspended in the air midway through a breathtaking dive. But Fantasy Wire's majestic 'Dandelion Sculpture' is an equally jaw-dropping sight - a visual magnet for every visitor to walk up Battleston Hill for a better view.
It's only at the top of the hill that I suddenly become aware of the low hum of traffic and the proximity of the A3. The bulk of Wisley's 240 acres in Surrey are tranquil meadows punctuated by peaceful lakes, undisturbed woods and farmland, gardens filled with birdsong and one of the biggest plant collections in the world (over 30,000 varieties). Not forgetting the spectacular and iconic Glasshouse, spanning the equivalent of ten tennis courts.
There are four, soon to be five, Royal Horticultural Society gardens in the UK, and this - their flagship - is an inspirational, uplifting haven. I photograph a lot of labels, especially belonging to the plants deemed worthy of the Award of Garden Merit (AGM), the RHS science-based seal of approval for varieties that perform well and offer best value. I finally settle on a fragrant, prolific wisteria, a signature plant of founder George Wilson - and a homemade rock cake from the café, which is equally worthy of mention.
A brand new spacious arrivals hall, the aptly named Welcome building, is now open to greet visitors; complete with a 100-seater restaurant and bigger café, a well-stocked gift shop, expanded indoor plant centre and a superb colonnade of 100 cherry trees.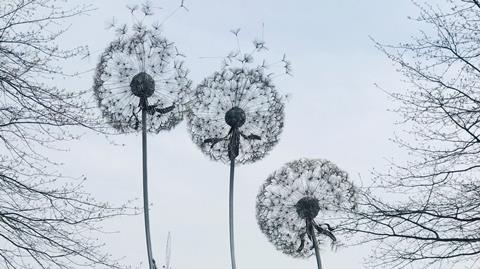 A UK charity established 'to share the best in gardening and enrich everyone's lives through plants' Wisley is ideal for group visits, with an excellent website outlining all its many benefits: substantial reductions on entry price, including free entry for group leaders and coach drivers; bypassing of queues for pre-booked groups; priority parking for coaches; special tours showcasing the numerous highlights; discount vouchers for the shop and bespoke catering options.
You could also consider linking your visit to one of the many special events, such as a craft fair or exclusive horticultural talk, or take part in one the planting and pruning workshops. Alternatively, learn how to make willow decorations for your garden, improve your photography skills or just sit back and enjoy summertime live jazz recitals and open-air screenings of must-see films.
Book your visit by calling 020 7821 3170 or contact groupswisley@rhs.org.uk and do let me know your favourite sculpture there too.
Wisley has just announced its first major exhibition of contemporary and modern sculpture, featuring the work of Henry Moore, Tracey Emin and other luminaries, running until 1st December.
Visiting groups will be able to enjoy access to the exhibition as part of their garden entry and I'd love to hear your experiences, so please email me at julie@groupleisureandtravel.com.
The jury's still out for me by the way - just can't decide between the swaying dandelions or that diving diva…
The ultimate vintage paradise
I am never happier than when I'm scouring a boot sale or market for collectables and in the lovely Lincolnshire countryside lies the ultimate vintage paradise. Hemswell Antiques Centres (formerly RAF Hemswell) is in fact Europe's largest venue for antiques, packed with endless rooms spread over four different centres.
Rare kitchenalia, retro leather luggage, sought-after ceramics, antique pine, longcase clocks, vintage toys, oriental rugs, tapestries and exquisite jewellery are just a few of the temptations on site, plus you can relish hand baked goodies in the on-site cafes or, if the sun is shining, enjoy a picnic in the grounds.

Travel expert and TV presenter, Julie Peasgood is a regular columnist for Group Leisure & Travel.