Julie Peasgood shares her experience of Giffords Circus and explains why it'll always have a place in her heart.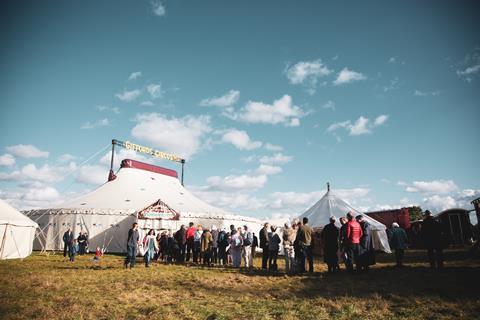 When my mum, Pearl, was 17 she ran away to join the circus. Being very petite and youthful looking, they told her to come back when she was grown up. Not one to be deterred, she returned at eighteen in heels and make up, and was duly welcomed into her new family, Bertram Mills Circus.
Every night Mum juggled batons and balls and was sawn in half (to her dying day she would never reveal how they did that trick). She also became part of a Japanese acrobatic team who renamed her Siko Ando, and introduced her to the art of Risley: an acrobat would lie on his back and spin something using only his feet. Mum was that something, and she loved every giddying moment.
It's over50 years now since I listened to her adventures, and for the first time ever I am watching Risley in action, courtesy of Giffords Circus. There are tears in my eyes because I can remember Mum describing it, but also because the two young boys performing it are extraordinarily good, and I know she would have adored Giffords, as everyone around me clearly does.
Created in 2000 in the Cotswolds by the visionary Nell Gifford and her landscaper fiancé Toti, this transformational travelling circus visits village greens throughout the South West, every May to September. Each year up to 100,000 people delight in its unique displays of tumblers, musicians, gymnasts, horses, dancing dachshunds and talking turkeys (many animals are rescued and all are beautifully treated). Then of course there is the effervescent Nancy Trotter Landry and the clowns, headed up by the hilarious, award-winning Tweedy.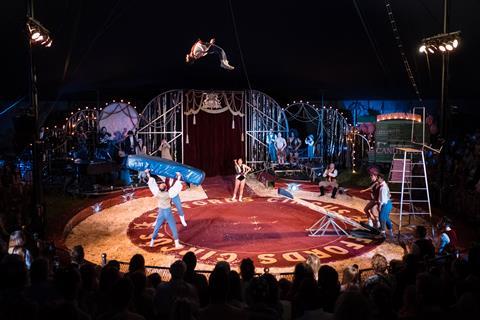 Giffords garners rave reviews from royalty to rock stars, and it is impossible to watch the uplifting, quirky and exhilarating performances without smiling. Max Hastings wrote in The Spectator "Giffords has an intimacy, charm and innocence that transcends nostalgia." An esteemed writer herself, as well as the producer of each show, Nell Gifford recalls: "I held the jewel of my childhood up to my eye, and through it I saw ponies and a dressing-up box and a tent, and that was Giffords Circus."
Since 2012 the company has been expertly directed by the inimitable Cal McCrystal (whose film credits include Paddington Bear and The Amazing Spider-Man 2). The sets are painted in the barns on Nell's farm; the animals are trained in-house, and artistes are sourced from all over the world. Do check out their engaging website, www.giffordscircus.com for more info (and book as early as possible – this is one seriously popular show!)
It is ideal for group bookings (every 15th ticket is free) and a perfect way to round off the evening show is to dine under canvas in Circus Sauce, the renowned 80-seat travelling restaurant that follows Giffords to each ground. The only one of its kind in the UK, and offering "a dining experience like no other," Circus Sauce is home to huge candlelit oak tables, and a delicious three-course banquet (made with locally sourced ingredients) is served upon iconic Bridgewater crockery. There might even be a little entertainment from the chefs!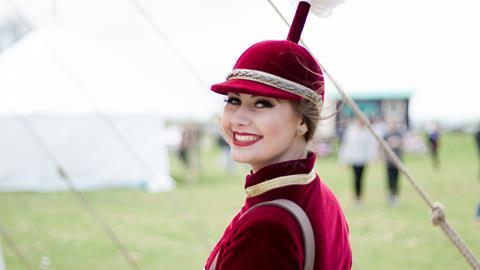 Once you've seen Giffords Circus you become part of a secret club; those in the know twinkle sagely because they've already witnessed the magic…and newbies sense that they too are about to be enchanted. I first encountered it last year when a friend treated me to a ticket, and I loved it so much I went straight back with my husband Patrick. This year we are taking our 3-year-old granddaughter, Saha. My mum would be so proud.
As the late, great David Niven advised: "Keep the circus going inside you, keep it going, don't take anything too seriously, it'll all work out in the end."
Join Julie for a Supercraft Cruise
I am super excited to announce the start of my new venture Supercraft Cruises - first destination Canada! On 13th May Saga Sapphire sets sail from Dover for a voyage to this wonderful country, with ports of call to include Newfoundland, Gaspe and magical Montreal. You can opt to fly back from Montreal, arriving in the UK on 28th May, or alternatively stay onboard for the whole month-long cruise, visiting Quebec City and Halifax before sailing back to Dover.
My team of gifted supercrafters will be teaching a huge range of inspirational workshops in the first half of the cruise, with appeal for both women and men; everything from hand-bound notepads to stained glass decorations, and tea cup dioramas to curious Kumihimo braided jewellery. Saga cruises also include complimentary wines, beers and soft drinks with meals, travel insurance, 24-hour room service, wi-fi and even gratuities.
I'd love you to join us, individually or as a group. It's a stunning itinerary on a beautiful ship, with the opportunity for your crafting and creativity to reach a whole new level with some of the country's finest crafting talent.
Contact: julie@groupleisureandtravel.com


Travel expert and TV presenter, Julie Peasgood is a regular columnist for Group Leisure & Travel.