A glorious day at the RHS Chelsea Flower Show and why there's so much for groups on England's largest island.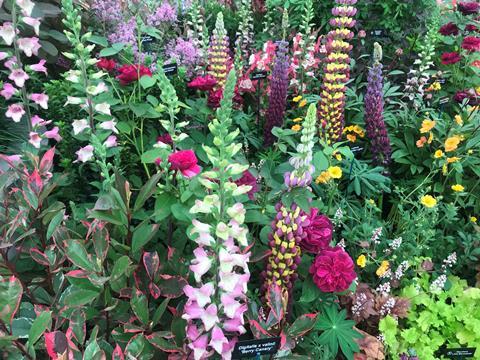 An excited throng surrounded the Best Show Garden at Chelsea this year, and it wasn't just because winners M&G were giving away recyclable shopping bags. It was Andy Sturgeon's pioneering creation that had jaws dropping and heads craning for a clearer glimpse. His ninth garden for Chelsea Flower Show, this woodland haven was a worthy prize winner, symbolising optimism and nature's power to regenerate.
I had the good fortune to work with Andy in 2000 (just before he conceived his first Chelsea garden) on a show called How To…for Discovery TV. Not only was he charming and kind, but he radiated skill and professionalism. He had the onerous task of teaching me how to move tonnes of backbreaking York stone from one location to another (a skill I never quite mastered) but his infectious smile never faded.
It was all smiles as I wandered around the Chelsea show, with everyone photographing the quotes at the different plots. One I particularly connected with was from the pen of Alice Sebold: "I like gardening - it's a place where I find myself when I need to lose myself."
I joined the crowds to marvel at the ingenuity of the designs and jotted down all the showiest specimens in the floral line-up. I have a small London garden that aspires to be an untamed cottage garden and I find even the trade stands at the show inspirational. I drooled over stunning delphiniums, peonies, lupins, fuchsias and the biggest begonias I have ever seen, but the highlight for me was when I wandered into a magical Alice in Wonderland world.
Not a show garden, but a five-star winner in its category, I was captivated by the extraordinary bronze creations of sculptor Robert James. A huge Queen of Hearts rampaged on the grass-covered roof of a shed, whilst a sizeable Alice, clasping a flamingo, presided over the proceedings. It was actually the newest (non-Looking Glass) member of the sculpture family that took my heart. This autumn a baby spouting whale, bearing a pint-sized, nightshirt-clad King on his back, will grace my garden - and I can't wait.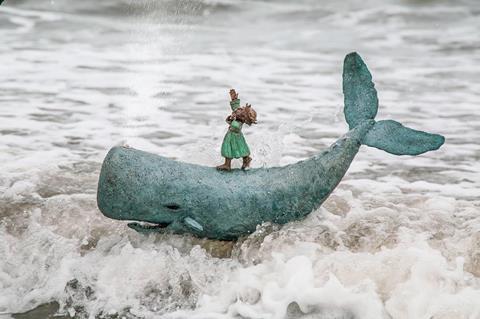 From whales and wildflowers to the Isle of Wight…
Every year I have the pleasure of travelling to the Isle of Wight as proud Patron of the Island Dance and Theatre Company. It's a perfect place for group visits; whether you're ramblers or interested in visiting historic homes, there's so much to do.
Foxhills of Shanklin accommodates groups of all kinds, and owners Ray and Ann book discounted ferries as part of the service. Former chef Ray makes superb breakfasts and could easily win Bake Off for his cakes. As an added bonus their guest garden is regularly visited by the endangered red squirrels, encouraged by a tempting breakfast of hazelnuts and sunflower seeds laid out for their benefit!
My favourites are the stately Osborne House, illustrating the lives of Victoria, Albert and their children (don't miss the children's miniature gardening tools) and the exhibition at Dimbola House of esteemed Victorian photographer Julia Margaret Cameron's work; distinctive, otherworldly & visionary.

Travel expert and TV presenter, Julie Peasgood is a regular columnist for Group Leisure & Travel.