The Excellence Award recognises people in the group travel trade who go the extra mile to make your job as a group travel organiser that much easier.

First added to the annual Group Leisure & Travel Awards in 2008, The Excellence Award has helped recognise all types of people working in all areas of the sector. Previous winners have included individuals who have worked for tour operators, attractions, cruise lines and more.
Congratulations to Zoe Poston, group sales executive of Dunwood, who won The Excellence Award for 2022. Also, a big well done to the runners up for being recognised for their amazing work. They were: Alex Dixon, sales and administration, Historic Royal Palaces, Pam Wharton, groups & tours manager, Ellen Smith (Tours) Ltd and Eric White, groups & travel trade executive, Royal Botanic Gardens Kew
You can find out more about the finalists including what they do and what they love about their job in our special feature here.
More about the award
Each year the individuals in contention for this special award make such a difference when it comes to your experience, whether it's ensuring that the booking process is as smooth as possible or creating a memorable trip for your members, with those extra special touches to make it the best it can be.
As a GTO you want to be in safe hands, knowing that everything has been thought through and the whole journey, from the initial booking enquiry all the way through to the experience itself, runs smoothly.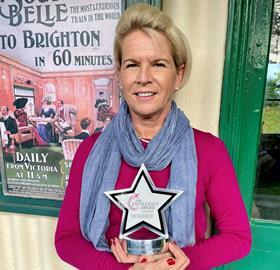 But it's often when the unexpected happens on a trip that an individual comes into their own, offering the right level of help and support to deal with any challenges.
Who won last time?
The Excellence Award 2021 was won by Sandy Cornish of Tailored Travel.
Reacting to the news, Sandy said: "I'm just absolutely delighted. I feel quite embarrassed quite honestly because I know everybody who was nominated – or not nominated – is fantastic.
"I have a great team and I work for a great company. I'm so grateful. Thank you to everybody who voted."
The winner of The Excellence Award was announced at the Group Leisure & Travel Awards ceremony, hosted by football legend Kevin Keegan on Wednesday 5th October at the DoubleTree by Hilton Hotel.