The Excellence Award recognises people in the group travel trade who go the extra mile to make your job as a group travel organiser that much easier - and 2023 nominations are open.

First added to the annual Group Leisure & Travel Awards in 2008, The Excellence Award has helped recognise all types of people working in all areas of the sector. Previous winners have included individuals who have worked for tour operators, attractions, cruise lines and more.
2023 nominations are open and we invite group travel organisers to nominate someone in the travel trade who has provided great service and helped make a trip or holiday a big success. Go on, make their day… it only takes a few moments.
About the award
Each year the individuals in contention for this special award make such a difference when it comes to your experience, whether it's ensuring that the booking process is as smooth as possible or creating a memorable trip for your members, with those extra special touches to make it the best it can be.
As a GTO you want to be in safe hands, knowing that everything has been thought through and the whole journey, from the initial booking enquiry all the way through to the experience itself, runs smoothly.
But it's often when the unexpected happens on a trip that an individual comes into their own, offering the right level of help and support to deal with any challenges.
Who won last time?
Congratulations to Zoe Poston, group sales executive of Dunwood, who won The Excellence Award for 2022.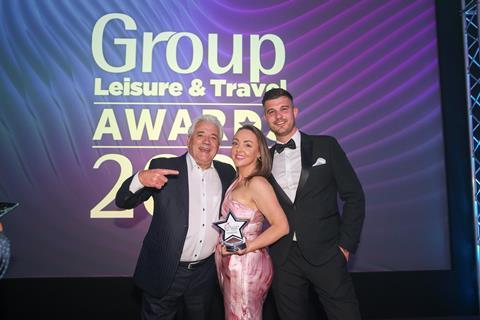 Zoe has worked at Dunwood for 21 years, eight of those in the groups department. Her busy role includes helping arrange group holidays, attending familiarisation trips, welcoming people in the departure lounge as well as taking part in the annual conference at Dunwood's most popular destinations.
When asked about her reaction to winning the award, Zoe said: "I was completely shocked. It meant a lot to be recognised for doing what I love and knowing that all of my hard work had been noticed and appreciated."
Also, a big well done to the runners up for being recognised for their amazing work…
Alex Dixon, Historic Royal Palaces
Pam Wharton, Ellen Smith (Tours) Ltd
Eric White, Royal Botanic Gardens Kew
You can find out more about the finalists including what they do and what they love about their job in our special feature here.
If you have any questions, or need any help, contact the team at Group Leisure & Travel on 01908 613323 or email awards@groupleisureandtravel.com.
For more information about the Group Leisure & Travel Awards, click here.