Captivated at first sight - Julie shares her experience of a visit to the fairy tale Portmeirion in Snowdonia.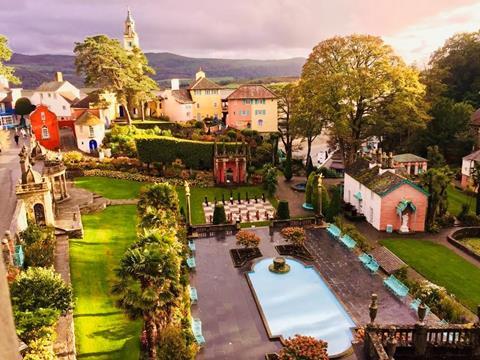 We arrive in Snowdonia with the countryside newly washed; shiny and sparkling from recent heavy rains. The road signs are now predominantly Welsh, and the afternoon rays make the burnished copper of the leaves glisten in the dappled sunshine.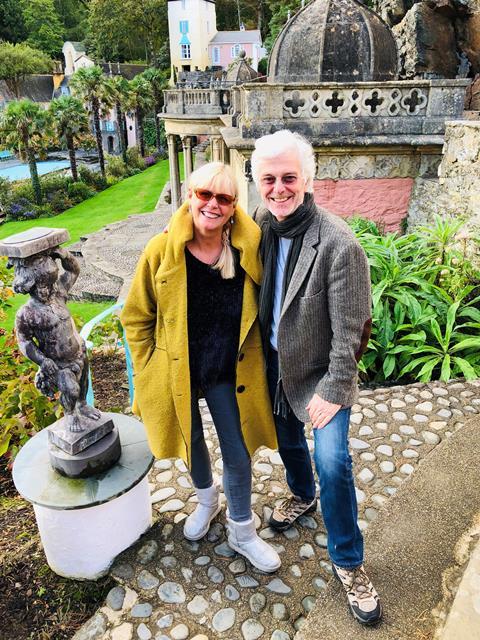 We are sharing our route with a lot of sheep and one of the biggest rainbows I have ever seen. Distant roads are threaded below us like silver ribbons and the hills are so green it looks as though they've been reconfigured with a 'vivid' filter. It is absolutely stunning. And when we drive into impossibly pretty, fairy tale Portmeirion, it gets even better.
Built by the visionary architect, Sir Clough Williams-Ellis, over the years 1925 to 1975, Portmeirion is a holiday village, a real-life film set and an architectural icon. Constructed in an Italianate style, it is home to two elegant hotels, 33 stylish village rooms and 13 individually designed, self-catering cottages.
There is an onsite spa, a swimming pool, an array of award-winning restaurants and cafés, an authentic Italian gelateria and a sprinkling of fascinating shops, with the main village shop selling the renowned Portmeirion Pottery.
I am captivated. A maverick, avid collector and environmentalist, Clough built his village as a homage to the Mediterranean, drawing inspiration from Portofino which he loved. Everywhere there are arches (always framing a picturesque view), detailed façades and anachronistic statues; Burmese dancers pose serenely alongside Greek deities.
"Nowhere is ordinary, nothing remotely municipal. Instead it is all pinks, yellows, blues, corals and Clough's signature colour, turquoise."
All the buildings are Grade I or Grade II listed; nestling within 70 acres of sub-tropical gardens and woodland, they feature temples, sculptures, rare plants, wishing trees and 19 miles of walkways. And if you fancy some sea air, there are four miles of coastal paths and a couple of superb sandy beaches on offer too.
Group information
Portmeirion welcomes groups all year round for day visits, lunches and overnight stays. Group rates are available to parties of 12 or more – email visit@portmeirion.wales or call 01766 772409. Plenty of dedicated coach parking is available and free entry (with complimentary refreshments) is provided for both the driver and tour leader.
20-minute walking tours, train rides and a film about the village are included in the entry price (the train only runs during the main season). With advance notice, bespoke guided tours can be arranged covering topics such as Portmeirion's musical heritage.
Contact location manager Meurig Jones by emailing meurig@portmeirion-village.com or by calling 01766 772306. Visit www.portmeirion.wales/ for more information.
But if walking doesn't appeal, a little toy-town train transports 40 visitors at a time on a complimentary loop through the woods, stopping at a 12th century ruined castle and the famed Chinese lake, where passengers can take photos of the ornamental bridge and Pagoda.
Top tip: It's worth bringing your charger if you're taking pics here on a phone - there's a risk you'll run your battery down as every single view is spectacular!
Back in 1941, the legendary Noël Coward was so energised by the village that he wrote Blithe Spirit here in less than a week. "…Caught a morning train from Paddington, bound for Port Meirion in North Wales. For some time past an idea for a light comedy had been rattling at the door of my mind and I thought the time had come to let it in and show it a little courtesy… We arrived on a golden evening, sighed with pleasure at the mountains and the sea in the late sunlight, and settled ourselves into a pink guest-house."
Sir Noël's writing cabinet still graces Fountain Two, his preferred cottage, and Ingrid Bergman gifted Clough an enormous Buddha in 1958 after she finished filming The Inn of the Sixth Happiness in the village. Other famous visitors have included Edward and Mrs Simpson, Prince Charles (who has visited three times), The Beatles, Paul Weller, Jarvis Cocker, Grace Jones… the list goes on.
The spell of Portmeirion lingers on, too. Back home I find myself 'Cloughing up' unadorned walls and empty corners - even my husband Patrick (normally a stranger to embellishment) suggests weaving into the garden the back panel of an old fireplace currently lying unused in our cellar.
Clough's motto was 'Cherish the Past, Adorn the Present, Construct for the Future'. I can't wait to construct a future trip to North Wales for another spell in this enchanting hideaway.
A word from location manager Meurig Jones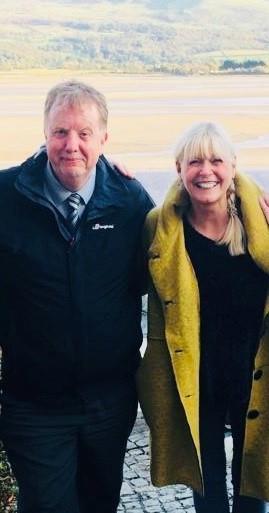 Sir Clough Williams-Ellis was a conservationist and called Portmeirion his 'architectural mongrel' and his 'home for fallen buildings', as he incorporated all manner of rescued treasures into his creation. He wanted to prove how a naturally beautiful location could be developed without spoiling it, and he also wanted his village to become a creative influence on others.
Writers, artists and musicians have always found it so: Brian Epstein, The Beatles manager, rented a cottage here for many years, and The Beatles were frequent visitors. George Harrison in particular appreciated its spiritual energy, and even decided to hold his 50th birthday party here in February 1993.
It has been used on numerous occasions as a backdrop for films and TV, including Dr Who, Citizen Smith, Brideshead Revisited, Cold Feet, Top Gear and, most famously, the cult TV series The Prisoner, which was filmed here in the mid 60s.

Travel expert and TV presenter, Julie Peasgood is a regular columnist for Group Leisure & Travel.