GLT hears from Julie Peasgood about her wild experience at Cornwall's Eden Project.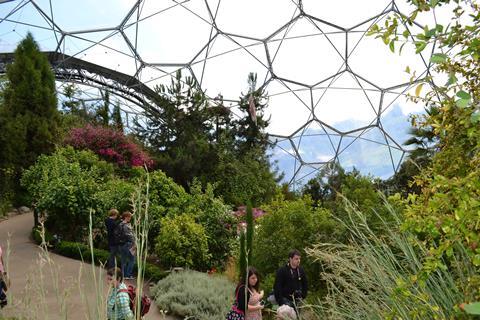 I am standing in front of what appears to be a giant blue ceramic dalek – except it has a waist and it's benign. At almost nine metres tall it is so futuristic that it could be straight from the set of Doctor Who, and the fact that it's firing out scented smoke rings only adds to its mystery.
'Blue' is just one of the immersive installations at the Eden Project in Cornwall. This 20 tonne sculpture is a monument to cyanobacteria, among the world's most microscopic living beings, and right now it is giving untold pleasure to a group of larger living beings. Eden brings out the child in us all; everywhere I look I can see expressions of wonder on faces from as young as three to 93.
I wander through the beautifully manicured gardens, bursting with daffodils, crocuses, spring heathers and more installations - ranging from ingenious driftwood horses to sculptures about pollution and solutions. I'm fascinated by the giant tropical Biomes, housing a diverse collection of plants and the largest rainforest in captivity. Sadly I discover that I've just missed the eigth annual World Pasty Championships.
But Cornish pasties are on offer in Eden's cafés, along with authentic Mediterranean-inspired dishes in the Med Biom. The food is home-made, organic and served on long refectory tables in the main dining area, with a variety of stalls dotted around the grounds, selling hot Spanish churros, burgers - even baobab smoothies and rum cocktails (the last time I encountered this superfruit was when I was 14 and we drew little fat baobab trees in a Geography class. Interestingly it tastes like a cross between melon and lemon curd.)
Created by Sir Tim Smit and officially opened in March 2001, the Eden Project is an educational charity seeking to connect us with each other and the living world. Nicknamed by some as the Eighth Wonder of the World, its mission is to explore how we can all work together towards a better future.
Much more than simply a visitor attraction, Eden's outreach is as huge as the crater it nestles in (the size of 30 football pitches). With community work 'ranging from a weekly lunch club tackling isolation amongst the elderly, to The Big Lunch connecting millions across the Commonwealth', the money raised from admission also supports its multiple conservation projects and visionary learning experiences. Even more good news - it's an excellent venue for group visits.
If you're planning a trip with 15 people or more and intend to arrive by minibus or coach, a range of exclusive benefits are available including free entry for the driver and group organiser and money off standard admission. For more info email groups@edenproject.com or call the dedicated groups co-ordinator on 01726 811903.
Explore Cornwall further…
From gardens to something rather more ghoulish…. if you're visiting North Cornwall and have a penchant for a unique place to stay, I was intrigued to learn that you can spend the night in the old Bodmin Jail.
You won't sleep much in this haunted 18th Century prison - in fact you may not sleep at all as it's more of a guided ghost walk supervised by Bodmin's resident psychic medium - but you'll certainly have some scary stories to share on the coach back home. Includes a three-course meal in the on-site restaurant and your release at 5am – strong constitutions mandatory!


Travel expert and TV presenter, Julie Peasgood is a regular columnist for Group Leisure & Travel.