This award recognises group travel organisers for the positive impact they have on the lives of friends, family, colleagues or the community. It comes with a £2,000 prize to spend on a holiday.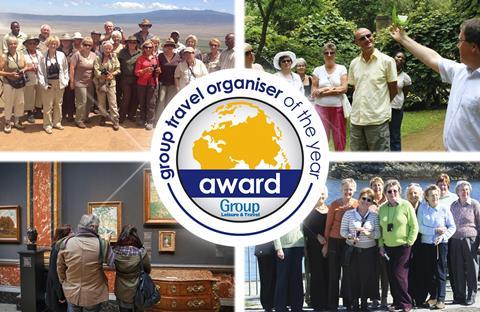 We have loved receiving your entries and nominations and hearing about the group travel organisers who have made a real difference to others.
Your 2021 winner is….
The coveted Group Travel Organiser of the Year Award® for 2021 went to Elizabeth Hodgson, group organiser for Barnet U3A.
Reacting to the news that she had won, Elizabeth said: "I feel very humble. I've thoroughly enjoyed what I've done. The main thing is I've given a lot of people a lot of pleasure and will continue to do so, and that is a big reward."
Watch the 2021 Awards Ceremony
And a big round of applause for our other 2021 finalists…
Jackie Ring, Guildford U3A
James Silvester, Hartley and District Active Retirement Association
Maureen Tidbury, M&G Holidays
Read more about your 2021 finalists
More about the award
The GTO of the Year Award® is part of the annual Group Leisure & Travel Awards initiative and the winner will be revealed during the ceremony, which will be broadcast from our custom studio through this website at 4.30pm on Thursday 28th October 2021.
Launched in 1998 and first awarded in 1999, this annual award now comes with a £2,000 first prize for the winner to spend on a holiday to remember. Previous winners have chosen to visit destinations including Austria, Italy and Turkey.
Over the years, all sorts of organisers have been recognised from a range of different groups and backgrounds. What they have all had in common is their ability and willingness to create fun and enjoyable opportunities for other people – many of whom would not have been able to enjoy such experiences otherwise.
Each spring, GTOs are able to enter the award or be nominated by someone. The Group Leisure & Travel team then find out more about them through a questionnaire and, if required, a phone call. A shortlist of four finalists is then decided who are then put in front of a panel of experts, which are normally made up of experienced travel trade professionals and group travel organisers, alongside the senior staff at GLT.

The Group Travel Organiser of the Year Award® is partnered by Tootbus.
To find out about its range of sightseeing options in some of the best cities click to www.tootbus.com.
For more information about the Group Leisure & Travel Awards click here.