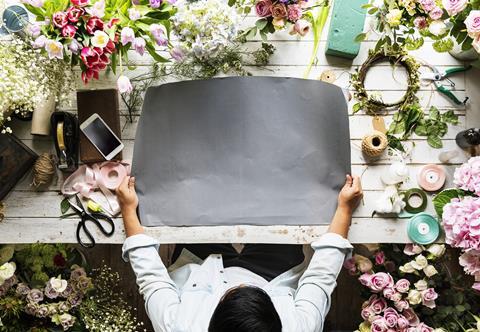 When I was seven my bible was the Ladybird book of 'Things to Make'. It had a green snake on the cover made out of wooden cotton reels and all manner of delights to create inside; my favourites being pattern printing with a potato, a snowman on a lake (or more accurately a ball of cotton wool on a mirror) and last but not least a seashell vase – the beach at my birthplace of Cleethorpes providing rich pickings.
My mum Pearl recycled and made just about everything (I remember our old clothes frequently being cut into strips for rag rugs) and she always encouraged me to craft too. Fifty-five years later I'm still beavering away with shells, driftwood, buttons, beads (and the occasional potato) and have even managed to create a business from my love of making things.
'Crafty Beggars' was born in 2012 with my business partner Wendy Turner Webster, and to date we have made five series for Together TV, written a regular column in Crafts Beautiful magazine for the past four years, launched two ranges with Create & Craft TV, masterminded a Supercraft Cruise, and taught a variety of workshops at the Creative Craft Shows up and down the country.
Which brings me to the idea of craft workshops as a group event.
Not only does crafting boost self-esteem, but there are health benefits too; it can lift depression, focus the mind and instil a sense of calm and wellbeing.
Plus it's the perfect antidote to hours glued to a computer screen - in fact my husband says it's the only time he sees me properly relax…
So the positive impact of creating something with our hands is not to be underestimated, and crafting workshops are also fun; they are a relaxing way of spending a few hours and a great way to meet new people. If you're reading this and don't think you're any good at crafts, please don't worry - workshops are run by experienced tutors, with many aimed at total beginners. The important thing is just to have a go; start simply and gradually grow in confidence (and remember that sometimes the best creations come from 'happy accidents'!)
Some quick research reveals courses all over the UK, including a mosaic workshop in the West Midlands, silver jewellery making in Sheffield, upcycling furniture in Essex, throwing pots in Northamptonshire, a cushion masterclass in Manchester, candle making in the Ashdown Forest, spoon carving in London, garden bird sculpture in Eastbourne, glass etching in Devon and soap making in the Lake District. There are hundreds more online, but this selection is from www.craftcourses.com They are suitable for groups and the price includes all equipment plus coffee, tea, soft drinks and if you're lucky, homemade cakes too.
Royal Botanic Gardens, Kew - great for groups
I feel very fortunate to live close to Kew Gardens, in my opinion one of the world's finest gardens and home to many of its rarest plants.
Crowned the Royal Botanic Gardens in 1759, there is always so much to enjoy: the glasshouses, including the newly restored Temperate House and the Waterlily pavilion; the multi-sensory Hive experience (revealing the secret world of the honeybee) and the breathtaking views from the Great Pagoda (promise it's worth the climb!)
The Treetop Walkway is quite surreal too, and even just sitting on a bench and drinking it all in feels good for the soul. Kew Gardens is perfect for group bookings: my top tips are to allow a whole day if possible, and to take sandwiches or a picnic – there are plenty of places to enjoy dining alfresco, especially when the weather gets better.


Travel expert and TV presenter, Julie Peasgood is a regular columnist for Group Leisure & Travel.