Channelling her inner Enid Blyton, Julie Peasgood heads to Cornwall for the first of her adrenaline-junkie experiences, all in the name of group trips!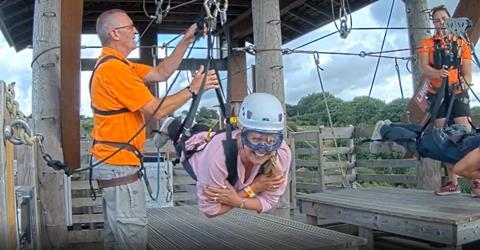 Is it a bird? Is it a plane? Nope, it's just little old me - though I am suspended face first in a Superman-style flying position, peering over a cliff edge 100 metres above ground level and ready to soar like an eagle…(whose idea was this?)
Inspired by a 'Kirrin Island' like view from my hotel window whilst filming in Cornwall recently, I have decided to channel my inner Enid Blyton and make this instalment all about thrilling adventures. And I'm starting with one of the most exhilarating - and scary - things I have ever done.
It's early morning, the sun is shining, and I'm harnessed up to the hilt. I have been weighed and rigorous safety checks have been performed, but I still feel sick contemplating how I'm going to be spending the next 60 seconds. England's longest and fastest zipline awaits me, and in a matter of moments I shall be zooming above the giant, futuristic biomes of the Eden Project, doing my finest imitation of a supercharged seagull (eagle was maybe a bit ambitious).
I'm about to travel 660 metres at a heart-thumping 60mph, but it's being so high in the sky that's probably the most frightening aspect; especially as I'm convinced for most of my 'flight' that I'm going to plummet to the ground and meet a gruesome end. But I don't drop - in fact (with my arms down by my sides) I'm more like a bullet than a bird, and I'm ashamed to admit I blaspheme my way (at high volume) through my first Hangloose adventure. In fact, I end up wishing I could do it all over again because I might actually enjoy the experience second time around (and the company have very wisely added second flights at reduced prices for anyone who feels the same way!)
"If you're reading this and fancy the idea of an extreme Cornish caper, but have reservations, then rest assured you're in safe and experienced hands."
The only one of its kind in the country, you can enjoy the Hangloose Skywire from the tender age of eight - with the oldest flyer being a mere 96 (I feel so much better on hearing this). Not long ago 190 members of the WI celebrated their centenary here, with their most senior member joining in the fun aged 90 - plus they even open early for the less able-bodied to be able to fly without the pressure of time or long queues. For more info about group bookings, contact info@hanglooseadventure.com or call 01726-812724.
In forthcoming issues I'm intending to enjoy more high-adrenalin experiences in different parts of the country - with appeal for groups as my top priority of course. Next up I shall be climbing an icon, namely the O2 Millennium Dome in London. Steep, scenic and spectacular - Greenwich here I come!
Thrill of Odyssey
Not as scary as the zipwire, but equally invigorating, I recently had the thrill of speeding along in the Odyssey, an innovative powerboat exploring the spectacular North Cornish coastline. Based in Newquay, Odyssey Marine Adventures can accommodate groups of 12, and is run by Pete and Matt; seasoned, entertaining skippers and lifeguards into the bargain (which is comforting to know when you're skimming the waves at full tilt).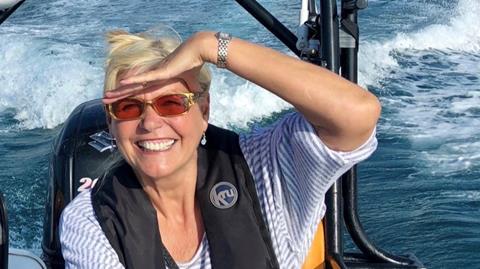 Seeking out seals, dolphins, cormorants and puffins, we were also shown secret doorways and smugglers' passages in the cliffs, mysterious caves not visible from the shore and Holywell Bay's rugged Gull Rocks, now famous as a location for Poldark. Call 07403 215 858 or visit www.odysseymarine.co.uk to book your own bespoke group adventure.

Travel expert and TV presenter, Julie Peasgood is a regular columnist for Group Leisure & Travel.