Julie tackles a 90-minute climb over the roof of the world-famous landmark in Greenwich, and still has a smile on her face!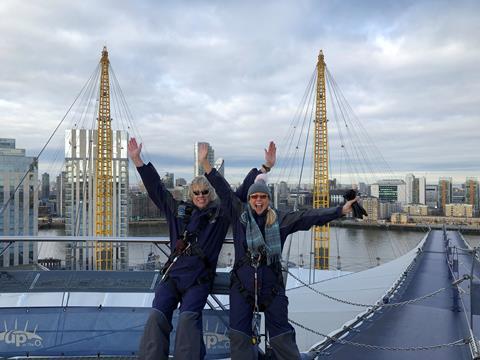 Well, I pass all the criteria to tackle 'Up at The O2': I'm over eight years old, under 21 stone, at least 1.2 metres tall and my upper thighs are less than 75cm in circumference. I'm good to go!
But when I try on the climbing suit that our lovely guide Matt hands me, the zip staunchly refuses to do up over my tummy. Matt kindly comments that it's because I'm wearing so many layers (it being January and all that) but I suspect it's because I've been mainlining mince pies for a month.
I am now determined that this will be the first day of my new fitness regime, and what better kick-start than scaling The O2 Millennium Dome; a thrilling, galvanising 90-minute climb on 380 metres of fabric walkway, up and over the roof of the world-famous entertainment venue in Greenwich, London.
In reality, the climb itself takes around an hour (depending on the size and general fitness level of the group making the expedition) but we must begin by watching a safety video and donning all the gear. Then along with our climbing suits (or gilets in warmer weather) we are provided with a safety harness and comfortable climbing shoes that grip the walkway like a mountain goat. Socks are mandatory and although it's a wonderfully sunny winter morning, hats and gloves prove invaluable too.
And we're off… Today we are 16 in number (though groups can be a maximum of 30) and we look like we mean business. I'm a little trepidatious however (is that even a word?) as the stairs up to the starting point begin to look slightly challenging in themselves - and Andrew, my daredevil friend and photographer, has pointed out that the array of professional climbing equipment at the entrance to 'Base Camp' makes it look like we're climbing Snowdon rather than a slope in south east London.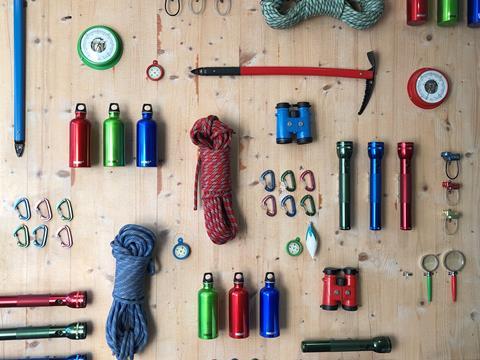 Clutching our carabiners (harness safety clips to you and me) we discover it's a surprisingly steep slope - more so at the start and the finish, where the walkway inclines nearly 30 degrees. Considering that the planes at nearby London City Airport apparently take off at an angle of 32 degrees, it feels pretty impressive.
It also feels easier than anticipated, with lots of convenient pauses to take a breather and admire the views. Suspended two metres above the surface of The O2 roof, the walkway has a tempting spring to it, but Matt urges us to ignore our inner child (there's a proper trampoline park inside the complex). A great guide and a veritable fountain of information, he offers encouragement and witty jokes every step of the way (just no bouncing).
I was worried I'd be up to this challenge as I'm a stranger to the gym, but as long as climbers are generally fit (and not pregnant) it's very doable, and accessible for most disabled guests too. It's certainly a unique way to see London. There's group elation when we reach the viewing platform at the summit of the roof: we are 52 metres above the ground, and the 360-degree panoramic vista is dazzling with the capital's skyline on show in all its glory.
Expeditions take place at all times of the day and night and with reasonably priced coach parking at The O2 plus numerous food venues, this makes an ideal group activity.
For more info contact the Box Office on 020 8463 2680/2689 or email events@upattheo2.co.uk
The sense of achievement Andrew and I both feel is considerable. We have conquered The O2, and we'll never forget our 'high-rise hike'!

Travel expert and TV presenter, Julie Peasgood is a regular columnist for Group Leisure & Travel.