A beautifully Irish score matched with fine performers and a heartfelt love story means Once is something that you will want to see again and again - which is rather ironic considering its title.
From the off, visitors to Milton Keynes Theatre were made to feel welcome in a traditional Irish pub - the setting throughout - as guitars, mandolins, violins and even a dancing cello player set the tone of the night. It's an authentic and a brilliant way to kick things off, bringing audiences into the heart of Dublin.
Based on the film of the same name, Once follows the intriguing story of two young people from totally different worlds, connected by their love of music. Guy (Daniel Healy) is a lost soul as it were, born and bred in Dublin who has given up on his dreams, which is why it is down to Girl (Emma Lucia), a Czech woman who has made a life for herself in the city, to make him realise the talent he possesses.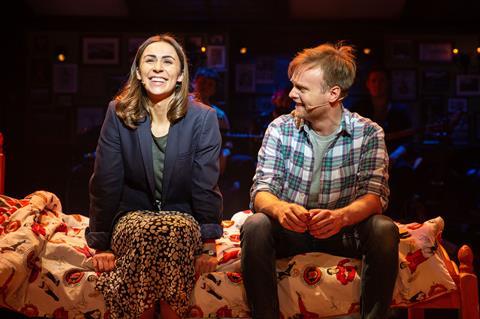 The duo are incredibly infectious together, but Girl is especially likeable and constantly pushes Guy to be the best he can be. Lucia admitted in an interview that before she took on the part of Girl, she had only ever met one person from the Czech Republic in her life, so contacted the Czech Embassy who put her in touch with two Czech girls who loved the show. She recorded their voices to master the accent and certainly had me fooled on the night.
Love theatre? Want to be the first to know?
Get our free Theatre Bug e-newsletter to receive theatre news, cast information, reviews, interviews and what's best for groups, sent to your inbox every fortnight.
Find out how

It's important to note that the show is incredibly funny too. It's easy to write Once off as a slightly gushy love story by reading its bio but there's a lot more to it. Billy (Dan Bottomley), who owns the shop in which Girl practises piano, is the mate that you all lovingly hate when you go down the pub at the weekend. His comical scenes are one of the highlights, with Bottomley a natural born entertainer and his character acting as the catalyst which brings Guy and Girl closer together.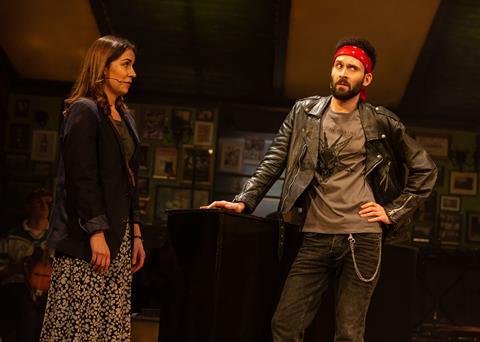 Each scene change is slick and accompanied by music from the on-stage musicians, who all have their part to play too. The majority of the company spend the whole performance on stage, providing the music in the absence of a full orchestra. It makes it feel more intimate and connects the audience with the tale, with different members of the group slipping in as certain characters when required.
The fact that the cast can perform, while also playing their own instruments, is a testament to how talented they really are. They're all note perfect every time when called upon, as is their singing which again, reaffirms the Irish theme. There's also a moment when they all sing in harmony with no backing music; a sensitive addition which matches the mood of that particular scene - I won't give it away!
The overriding feeling I had after a thoroughly enjoyable performance was that Once is the musical for music lovers - which I know might sound stupid but hear me out. The production is not full of elaborate costumes, glitzy sets and extravagant performances that you may expect when you hear the word 'musical', but instead shows the emotion that musicians put into their words and melodies. It's full of grit, heart and most of all, empathy, which is why it works so well. For a romantic escape to Dublin, which includes a nod to its musical heritage, I think this might just be your answer.
Once the musical is on tour until 25th July. You can find full touring dates, venues and ticket information at oncethemusicalonstage.com.

With a love of journalism and travel, Harry enjoys writing about his experiences for GLT readers to use as inspiration. Brighton, Dublin and Amsterdam are among his favourite cities to visit and he enjoys delving into historical sites too – especially those linked to the Tudors and World War Two.