Daniel Healy and Emma Lucia are taking on the roles for a second time.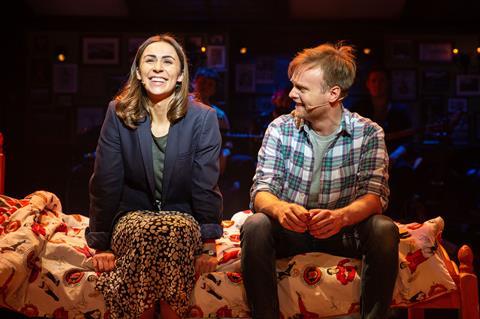 They first did so in the regional premiere in Autumn 2018 at the New Wolsey Theatre, Ipswich, and Queen's Theatre, Hornchurch.
Now, that production's director and musical director, the regular team of Peter Rowe and Ben Goddard, have reunited the duo for the first British tour that opened in January.
First a cult, micro-budget Irish film written and directed by John Carney in 2007, then a Broadway, West End and Dublin show, Once The Musical tells the uplifting yet yearning story of the hopes and dreams of two lost souls, a jilted Dublin street busker and a more positive Czech musician, who unexpectedly fall in love across five short days in the Southern Irish capital city.
About the tour
The touring cast of 16 will be led by Scotsman Healy as Guy and Lucia, from Durham, as Girl, whose chemistry was apparent immediately when press and media were invited to meet the company three weeks into rehearsal at Toynbee Hall in London's East End: a question-and-answer session introduced with rousing renditions of Irish pub and ceilidh songs and the show's opening scene.
This peaked with Healy and Lucia's performance of Glen Hansard and Markéta Irglová's Oscar-winning signature song Falling Slowly, with all the actor-musician cast playing their part around them, "leaning into the story" in the pub setting.
Daniel's relationship with Once goes back to "a long time ago". "My first run-in with the show was when I was doing a show in Los Angeles called Backbeat and I had an audition for the Broadway version of Once but couldn't do it because of various reasons," he recalls.
"But then I understudied the lead and played one of the main characters, Eamon (the music studio manager where Guy and Girl record their album) in the London production, when I understudied Ronan Keating."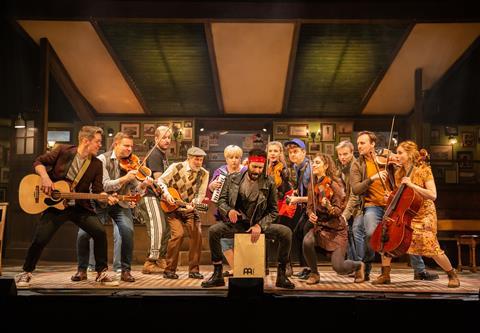 Daniel is a singer-songwriter in his own right, and friendship with the Boyzone singer turned into a co-writing partnership that elicited Keating's single Breathe. "After he heard one of my songs, Ronan said, 'I'd really like to write with you', so I ended up writing six songs with him and touring with him in his band," he says.
Emma saw Daniel in Once in the London production. "I was still at Mountview drama school, and doing Beautiful - The Carole King musical, on tour at the time (making her professional debut as Marilyn and understudying the lead role)," she says.
"Then I heard there was going to be a production of Once in Ipswich, and I know the musical director, Ben Goddard, from doing a couple of classes led by him at Mountview.
"You would do all the songs you had thought of doing for auditions and he'd give you tips and advice."
Emma landed the role of Girl after two auditions, and it was only then that she met Daniel for the first time for rehearsals.
"Peter and Ben auditioned us separately and they must have felt we would have chemistry once we were put together," she says. The partnership worked a treat – "we get on really well" – and there was immediate talk of a tour.
"But we needed a producer," says Emma. "I didn't think it was going to happen, so it was a quite a surprise when it did, but we're so pleased," says Daniel.
"The producers have given Peter and Ben complete control as they loved the show as it was in Ipswich."
Performing as Guy and Girl
Hearing Emma's Czech accent on stage in the rehearsal room and then her North Eastern one in the interview reveals how much work she put into preparing for the role. "I'd only met one person from the Czech Republic in my life, and briefly at that, so I contacted the Czech Embassy and they put me in touch with two Czech girls who were here for six months and loved the show!" she says.
"So, we met for a cup of coffee and talked about the show, and I recorded their voices and asked any questions that I felt I needed answering."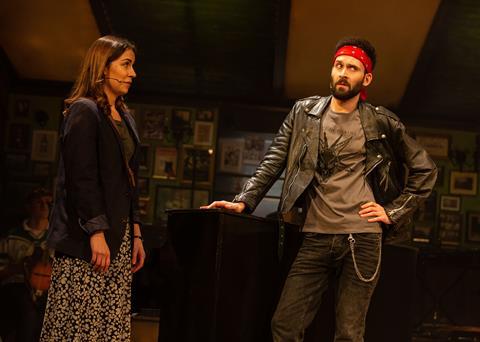 Likewise, Daniel's Dublin accent sounds spot on. "I think, without being big-headed, I've got an ear for accents," he says. "I'd ask Irish friends too, and it's all about not being afraid to ask.
"Though being Scottish doesn't make it easier to learn because, when accents are close to each other, like these two, they're actually more difficult to separate…but I've managed to fool a few people with my Irish accent, thinking I really must be from Dublin!"
Daniel and Emma's instrumental skills are as important to their roles as their singing and acting. "My dad's a guitarist, and I did musical theatre from the age of five, and TV dramas and films too, and I've now got a parallel career as a singer-songwriter," says Daniel.
"I could never call myself a busker, but I have busked in the past, but I sympathise more with Guy's struggle with not having the courage to follow through with his dreams when you hope you can make it as a singer-songwriter.
"It's not like I'm playing Titus Andronicus, but I do empathise more with the human struggle than the musical one."
Emma's path to Once began with an itch to dance from the age of three. "I just couldn't stand still," she recalls. "Then I picked up on playing the piano, the instrument she plays in Once, at five years old.
"I've always loved theatre. My dad used to do a lot of amateur dramatics and I knew it was something in my life I always wanted to do."
Exuding an air of positivity, she feels a strong connection with her role as Girl. "She sees it as her mission to help other people, and I empathise with that as I love to do that myself," says Emma.
Once The Musical will be on tour until 25th July. You can find out more about the production at oncethemusicalonstage.com.
Interview by Charles Hutchinson.