Peter Andre and co shine in the Dominion Theatre's latest revival of Grease. Expect iconic songs, terrific dance routines and that feel-good feeling.
Opening night of the West End's newest hit and you'd think the nerves would be jangling, right? Think again because this is a cast that means business, producing powerful renditions of the loveable hits with attitude, greased up combs and hip thrusts galore.
It's fair to say that this is a very colourful version of Grease. Theatre-goers expecting to see a recycled Danny Zuko and Sandy Dumbrowski from the days of John Travolta and Olivia Newton-John will be in for a surprise. Dan Partridge and Olivia Moore bring the characters into their own, taking snippets from the much-loved twosome while throwing in their own quirks. The pair work together well, as they retell their 'lovey-dovey' tale alongside the over-hyped stories of high school drama among their peers.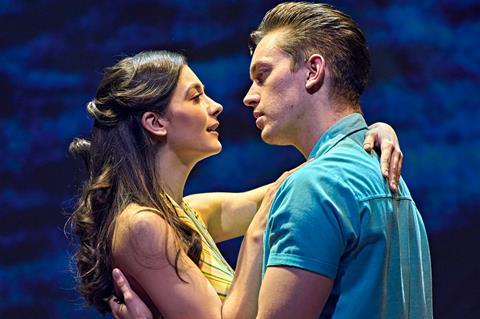 Tell me more, tell me more I hear you say. Well, where to begin? The show marks pop-star Peter Andre's West End debut in the roles of DJ Vince Fontaine and Teen Angel, and although his cameos are brief, they're done with a nice amount of humour without over egging the pudding.
In the first act, Andre flies in and out of scenes from a 'radio studio' at the back of the stage, keeping the story flowing but barely getting into the action. His time front and centre during this period is brief which may disappoint fans of the singer, especially as he's highest on the bill.
This changes in act two when Fontaine makes his way out of the make-shift booth to host a dance contest at Rydell High School's prom. This is the Peter we all know and love, bowling around the stage and taking the lead in Hand Jive. He's clearly in his element, donning a leopard print suit and owning the moment. At one point, he even jumps into the splits – not bad for a 49-year-old.
He's loveable as Teen Angel too, holding a prolonged high note at the end of Beauty School Drop Out that certainly rolls back the years. It's a fine debut at one of London's top venues, and there's more of these throughout the ensemble, too. Noah Harrison as Roger and Mary Moore as Jan both mark their West End firsts in Mooning, a cute number for the debutants to have their moment which they take with both hands.
It's the songs which make Grease so popular, of course, with many wedding playlists and party soundtracks full of anthems that might sound a little kitsch. But Summer Nights, Hopelessly Devoted To You, You're The One That I Want and We Go Together all hit the mark here and partner perfectly with choreography from Dame Arlene Phillips. Expect impressive lifts, old-school struts and fabulous spins that use every inch of available space.
Paul French's version of Kenickie has a foreboding presence and glows in Greased Lightening. His character's arrogance is potent, with French even winking into the audience midway through the hit to a few faint screams. Whether he knew someone in the audience or not, the actor had watchers in the palm of his hand as sparks flew.
I still don't understand how people go together like 'Ramma-lama-lama, Ka-dinga Da Ding-dong', or why Sandy changes herself completely to fit in with her wannabe cool-dude boyfriend, but you're in for a treat with this one. They say 'Grease is the word', but I prefer superb. Those who get tickets for the 26-week run will have a blast.
Grease is playing at London's Dominion Theatre for groups until 15th October, with special rates available for eight or more people. More information is available at www.greasemusical.co.uk

With a love of journalism and travel, Harry enjoys writing about his experiences for GLT readers to use as inspiration. Brighton, Dublin and Amsterdam are among his favourite cities to visit and he enjoys delving into historical sites too – especially those linked to the Tudors and World War Two.