GLT went to see the new cast in Waitress the musical, which has been extended until January, to discover the ingredients behind its success.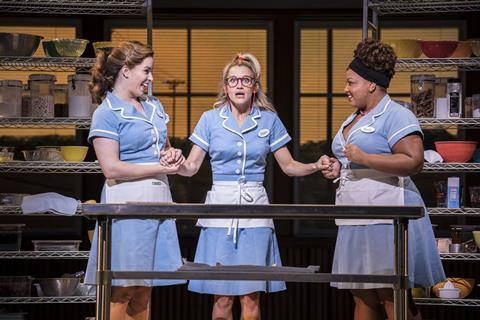 A generous amount of romance mixed in with a huge helping of comedy, stellar vocals and a sprinkling of friendship, sass and emotion and you're in for a feast with Waitress.
After storming Broadway, this charming musical seems to have gone down a treat in the West End, recently extending to January and with an all-new cast.
It tells the story of waitress, pie-maker and day-dreamer Jenna who is desperate for happiness in her life. With the pending arrival of an unwanted child and that of a new hot doctor in town, life becomes even more complicated. But with the support of her wing women and fellow waitresses Becky and Dawn, Jenna overcomes challenges, the result of which is a surprisingly moving and heartfelt show.
Fantastically designed, the set changes are seamless and it even took us a while to realise that the six-piece band are actually part of the stage and set – the piano doubling up as the cake counter in 'Joe's Diner'.
New to the role, Lucie Jones (Les Misérables) Jenna is the perfect combination of funny, unsure and loveable, not to mention her pitch-perfect voice which, just when you think her vocals can't get any stronger, she belts out another line; the show-stopper being She Used to Be Mine.
From the word go, the chemistry between Jenna, Becky and Dawn is clear, their harmonies as tight as the bond their characters have. One of our first introductions is the tongue-in-cheek number The Negative as they await the result of Jenna's pregnancy test after a drunken night with her abusive husband Earl (Piers Bate). All three characters have their own heart-warming quirks including some great one-liners from Becky and the loveable geekiness of Dawn who goes into meltdown if the ketchup and mustard bottles aren't in the right order.
In fact, there isn't a weak link at all in the casting with stand out performances throughout, one of our personal favourites being that of Marisha Wallace who delights as sassy and strong-willed Becky with incredible vocals (I Didn't Plan It).
"It's no coincidence that it's the first musical in the history of Broadway to boast an entirely female creative team."
But the biggest reaction of the night has to be for Blake Harrison's (The Inbetweeners) performance as the wonderfully tragic Ogie – who falls for nerdy Dawn in a very big way. When he visits the diner to declare his undying love for her with the classic Never Ever Getting Rid of Me, we were in stitches. The couple discover they have the same interests (not least American Revolution re-enactments, yes really) and Harrison's delivery is impeccably funny.
The belly laughs continue throughout the musical, especially once Jenna finds herself in the office, and then arms of, her somewhat awkward gynaecologist Dr Pommater (David Hunter).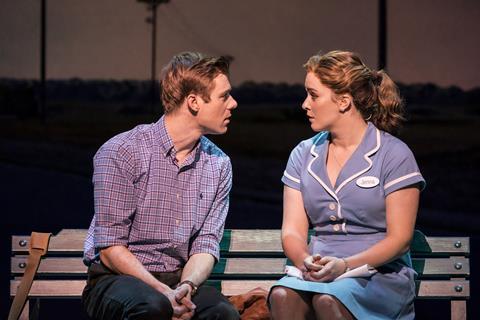 Not even he can resist a taste of one of her pies (a Mermaid Marshmallow pie to be precise) despite being off sugar. Along with the infectious songs (and the wonderful refrain of sugar and butter and flour that echoes throughout) are relentless puns and metaphors, perhaps the funniest moment when Jenna presents an 'in the dark, dark chocolate pie' to Dr Pommater before switching off the lights.
Based on the 2007 film written and directed by Adrienne Shelly, Waitress has been adapted for the stage by Jessie Nelson and directed by Tony Award-winner Diane Paulus. The result? An intoxicating performance, deliciously warming, uplifting, powerful and just like in It Only Takes a Taste it leaves you wanting even more.
Waitress is currently booking for performances at the Adelphi Theatre until January.
For more information and booking visit www.waitressthemusical.co.uk