Emphatic Meat Loaf hits are the shining star in this production of Bat Out of Hell, which is an extraordinary piece of musical theatre involving fire cannons, confetti, and growling motor bikes.
There is a reason why Jim Steinman's Bat Out of Hell musical is described as an 'epic rock and roll theatrical spectacular'. The American producer was the magician behind power ballads like Celine Dion's It's All Coming Back to Me Now and of course, Meat Loaf's I'd Do Anything for Love (But I Won't Do That). These over-the-top anthems, which are included the performance, are why people come to see this production. The pomp served up by the cast is just an added bonus.
For those that don't know, groups going to see Bat Out of Hell are whisked away to the streets of Obsidian, a post apocalyptic Manhattan, which is ruled by a dictator named Falco. Strat and his underground gang of outcasts roam the streets and are known as 'The Lost', but all of this changes when he sets eyes on Falco's daughter Raven, who has been locked away from the real world. The pair hatch a plan to escape the clutches of Falco, eventually joined by his long-suffering wife and Raven's mum, Sloane. Are you with me? It's all very confusing.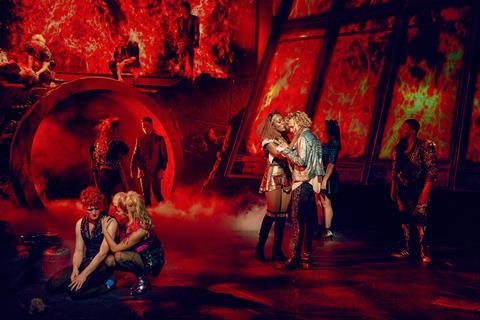 In fact, it's very disjointed and sometimes it seems like the narrative is trying too hard to link back to the lyrics from the Meat Loaf repertoire, especially when Sloane and Falco attempt to throw an 18th birthday party for Raven. I'd leave younger members of the group at home for what followed.
Let's just say that the couple display their more passionate side to the tune of Paradise by the Dashboard Light. A convertible car appears from what was the birthday table full of balloons and cake and then they go for it (theatrically speaking of course).
Jamie Jukes and Laura Johnson played the roles on the night and revealed all. Jukes leaving the stage in bright pink jocks and Johnson close behind in lacy lingerie after a provocative routine that only comes to a grinding halt when Raven (Martha Kirby, who gives a wonderful performance of It's All Coming Back To Me Now later on) throws the 'car engine' into the orchestra pit to cut the music. I think a good old fashioned bucket of water might have done the trick. It was weird, but vocally excellent.
Talking of which, the title track steals the show but that's a no-brainer. I'm talking anything and everything thrown in to make it as big and as epic as possible.
Strat, played by Glenn Adamson, is given the bold task of matching Meat Loaf's pipes in this one and gives it everything. When that unforgettable piano intro rings out, the atmosphere changes and Adamson becomes possessed in the moment.
He takes the microphone with both hands and gets to work, alongside exploding fire balls, two rounds of confetti, a shapeshifting motor bike and plenty of fake blood. There was probably more that I missed across nearly ten minutes of pure adrenaline – trust me, it's hard to keep up.
By the end, he's shirtless, soaking wet and seems to have every vein pulsing across his face. Maybe I'm getting a little carried away here, but the puzzling storyline is easily forgotten about when you're watching someone share their craft so beautifully.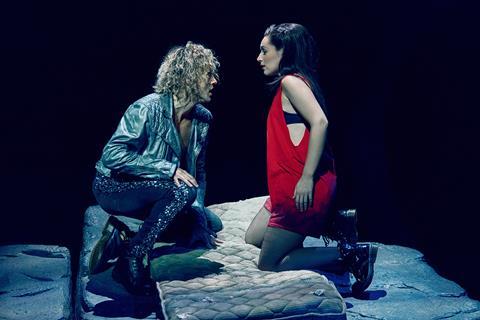 The music is what makes this production so watchable, because you're never too sure what's coming next. Meat Loaf's original recordings lay the foundations for these juiced up renditions that have so much colour.
Those old enough to remember when the 1977 Bat Out of Hell album was released can reminisce to their hearts content. Those who aren't can still appreciate the hits, which resonate even more than ever following the singer's death earlier this year.
Yes, I would do anything for a clearer storyline, but a bad review? No, I won't do that.
We saw Bat Out of Hell on Tuesday 14th June at Milton Keynes Theatre.
The tour runs until 5th November, with a London season at the Peacock Theatre from 17th February until 1st April 2023.
Group rates are venue specific with more information available at www.batoutofhellmusical.com/uk-tour.

With a love of journalism and travel, Harry enjoys writing about his experiences for GLT readers to use as inspiration. Brighton, Dublin and Amsterdam are among his favourite cities to visit and he enjoys delving into historical sites too – especially those linked to the Tudors and World War Two.