From the world's fastest zipline to race track thrills, these experiences are sure to excite the adventurous members of your group.
Are you brave enough to take on any of the following activities? Let us know by commenting below, or tell us the most adventurous thing you've done with your group.
1. Walk 360 sky-high challenge, BAi360, Brighton
You might have been 138 metres up in the BAi360's glass viewing pod but you won't have been able to get out onto its roof – until now! Join the Walk 360 experience and you'll get those stunning Brighton views right out in the elements. Clipped into a harness, you can even test your nerve by leaning back over the coastline. If you crave more sky-high challenges, the Climb 360 epic ladder ascent and Drop 360 abseiling experience make it a nerve-jangling hat-trick.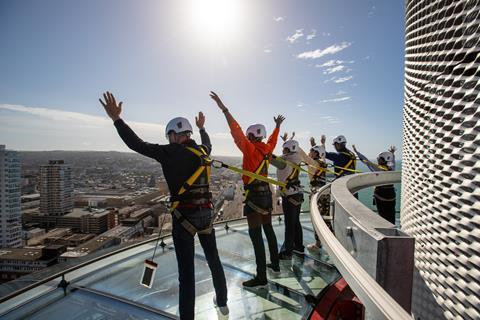 2. Formula 1 Racing experience, Silverstone, Northamptonshire
You can follow in Lewis Hamilton's tracks, quite literally, when you take your own spin around Silverstone. The iconic race track has several driving experiences to choose from. You can go full throttle in a Ferrari, an Aston Martin, a BMW M2, or all three, or dazzle your friends with a handbrake turn taught by a stunt pro. Afterwards, or for those looking for life in the slow lane, head inside to the Silverstone Interactive Museum for a glimpse into the history of British racing.
3. Indoor skydiving, Basingstoke; Manchester; Milton Keynes
Few extreme adventures are more adrenaline-pumping than skydiving, but did you know you could try it without jumping from a plane? More affordable and accessible, indoor skydiving with iFly involves hovering Superman-style on a cushion of air in a wind tunnel, with blasts of up to 165mph.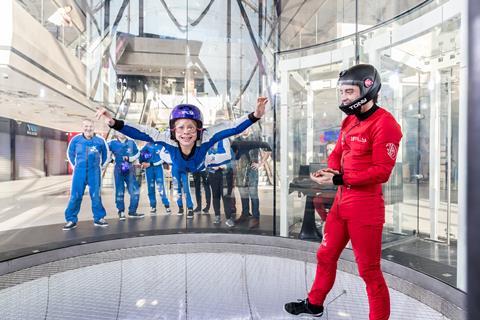 4. World's fastest Zipline, Zip World Velocity 2, Snowdonia
If travelling at 100 miles an hour without a vehicle sounds the thrill of your dreams, you'll want to check out the fastest zipline in the world. At Penrhyn Quarry in Wales, Zip World Velocity 2 will hurtle you head first over 1.5 km and give you bonus views of Snowdonia – if you dare to open your eyes! With four parallel lines, you can even race members of your group to the finish line.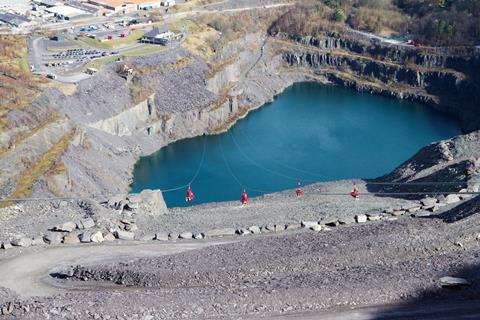 5. UK's highest bungee, Bray Lake, Berkshire
A calm lake surrounded by countryside makes a nice spot for a picnic… or a bungee jump. Bray Lake in Berkshire boasts the UK's highest bungee at 300ft – the equivalent of leaping off a 30-storey building. Groups can take it in turns to brave the drop, or even book a tandem bungee jump where you'll share the fear and adrenaline of the experience.