During these strange and difficult times I have been proud to see how our incredible team has met the challenge of keeping readers informed and entertained, while supporting the group tourism industry.
Throughout the coronavirus pandemic we have worked hard to continue to bring high quality content to our readers through the print magazine, website and newsletters. We were, and continue to be, determined to support our readers and the people and companies who work in our amazing group tourism industry.
Plus, I truly believe during this period we have created some of our best ever content, and we have particularly used our website to provide even more, keeping up to date with the latest developments that specifically affect group travel organisers and the travel trade. In fact, our web traffic is at an all-time high.
We were, and continue to be, determined to meet our obligations.
We started by creating content about how the coronavirus was affecting travel and tourism, as well as how to stay connected with your group. Then we covered how attractions and companies were working to welcome groups back with new safety measures.
Our We Welcome Groups mark and listing is also helping to let people know where is welcoming groups, based on the information we have been given (which is an intiative that will be paused during any national lockdown).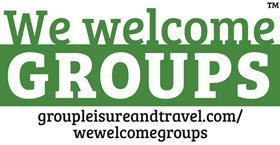 We have also been pleased to feature how groups have got out there again, from day trips to a holiday to Italy no less. It's been wonderful to hear.
We also appreciate the feedback we have received too, it is truly valued.
It was interesting to see the results of our Reader Survey, which confirmed that group trips and holidays are usually planned way in advance. So, we look to 2021 with cautious optimism. It also revealed how so many group organisers had a good experience with tour operators when their travel plans were affected by the pandemic.
The Group Leisure & Travel Awards ceremony could not take place as a physical event this year so we adapted to create a successful virtual ceremony which was broadcast through this website and has been viewed over a thousand times already.
We're here to help you stay connected, to enjoy thinking about future plans, and to have the right information so you can do so with confidence.
Remember, in addition to the print magazine you can read each issue digitally by viewing the e-magazine. Not only that, but the past year's archive of issues is also available. This is always online at groupleisureandtravel.com/emag.
I hope you continue to enjoy and benefit from our content and thank you for your ongoing support.
Rob Yandell
Publisher, Group Leisure & Travel