Chris Taylor, of the Wey Valley Theatre & Travel Club and New Meridian Association member, shares her experience of a trip overseas to Italy with her group.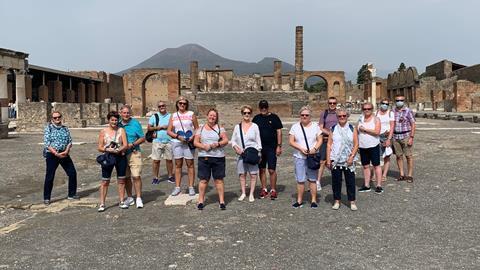 In June 2019, which now seems like a million light years away, I sent out information to my members about a five-night trip to the Amalfi coast, including a visit to Pompeii, and staying in a beautiful 4-star hotel just outside Sorrento, starting on October 1st 2020.
Within a few days there were enough people signed up to make the trip viable and eventually there were 38 of us – a good number for me because the cost of the coach to Gatwick / Heathrow has to be shared between us.
And then along came Covid-19. My first-ever cruise in March with Fred. Olsen Cruise Lines was the first casualty but we were treated so brilliantly by them and were offered double the money we had paid if we didn't withdraw completely but looked to book a further cruise within two years. The only admin involved for me was returning the coach money which took a couple of hours.
My trip to the Battlefields in April bit the dust, as did so many theatre outings and day trips, and a holiday to the Isle of Wight. All I seem to do at the moment is hours and hours of admin, but without the joy of the days out or holidays at the end of it.
Where have you been with your group recently? We'd love to hear about your experiences at home or abroad.
Then there appeared a light at the end of the tunnel – Jackie Cook at Success Tours rang to tell me that as Italy was 'open', our trip to Sorrento was going ahead. Sadly, very many of my group decided they wouldn't take the risk and withdrew and I was left with a party of 16 preparing to head to the sun.
I was informed in advance that we'd all be swab tested for coronavirus on arrival at Naples Airport. At first I thought that was a good idea, then as I 'Googled' various things, it dawned on me that if we were to be tested then presumably we wouldn't be allowed out of the airport, or possibly the hotel until we heard we were all negative.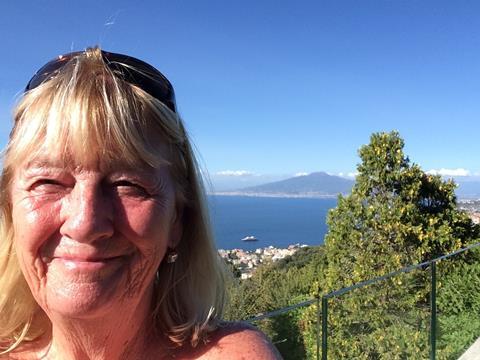 But I had so many assurances from the team at Success that I felt I wasn't on my own. Surprise, surprise, nobody on our flight was asked to give a swab test – so that was a night of worry and stress I shall never get back - and after getting our luggage, we went out to meet Alfredo. He walked us to our coach and off we went to the hotel. It was of course dark but Alfredo kept up a running commentary of what we would see in the daylight and filled in details of the itinerary.
When we arrived in the hotel, and indeed every time we entered the lobby during the holiday, we stood near a machine which registered our temperature, and we used the antibacterial gel. The hotel was superb. Lovely staff who couldn't do enough for us, wonderful rooms, and an amazing infinity pool with views of Vesuvius.
We had a fantastic four course set meal after we'd been to splash water on our faces. I realised we had well and truly landed on our feet!
Masks and how breakfast worked
After a very comfortable night and a great shower, breakfast was continental style. We went to the food table which was behind a screen and chose what we would like from foods what were uncovered and then there were items in boxes and packets on another table.
The rule was that we wore masks as soon as we left our rooms, removed them when sitting at the table, but put them on to get food and drinks, and we could remove them when sitting around the pool or swimming. And it was the same wherever we went on our day trips or on our day of rest. Masks were put on in the morning and only taken off to eat, and every shop or restaurant took temperatures and we had to write down a contact name and phone number. Walking around Sorrento that first morning, I think I saw about ten people at the most without a mask in the street, and they were all teenagers.
I certainly felt safer in Italy than I do in Weymouth – and much more protected than I did at Heathrow Airport or on the flight.
Our visit to Pompeii was surreal. We arrived at 9.30am and were given whisper sets and set off with Alfredo giving us a beautiful commentary. It was so very strange, as for the first hour and a bit, we saw no other people at all. Having been there three times before and always having to keep an eye out for my guide amongst 20 others, this was a delight! We saw a few couples and two groups of Italians, probably no more than 80 in all.
Similarly, the day trip along the Amalfi coast was a lot less hairy than usual, as there was so little traffic on that narrow road. We managed two boat trips and visited the beautiful towns of Positano, Amalfi and Ravello, each time with very few people and having a relaxing coffee break or meal. Perfect!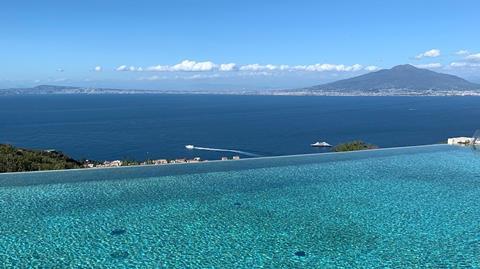 On our days without trips, some paid for a trip to Herculaneum and quite a few went to Capri. Some walked the half hour into Sorrento and booked a space on the hotel bus, but I decided to chill by the pool and didn't even go into the village at lunchtime as planned because there was a very extensive lunch menu by the pool instead.
We were all sad to leave the Hotel Due Golfi but a few were already planning to return with their families. We arrived at Naples with three hours to spare, but it was a very different experience to Heathrow and we went through check-in and security in 20 minutes. We could sit with plenty of space around us and wait for our flight. Once onboard, we were still very crowded and I must say I felt a little ashamed of British Airways when reflecting on our experience on the Amalfi Coast.
Who knows when we shall get away again; the visit to Iceland with Success Tours has had to be postponed as has the Christmas Markets river cruise with Arena Travel, and I now sadly have to go through the process of claiming back funds from two holidays with Isle of Wight Tours.
However, Sorrento & Pompeii in October 2020 will be a wonderful memory for the Wey Valley Theatre & Travel Club. Thanks to Jackie Cook especially and Success Tours in general.