The after-dark Love Light Norwich festival will return to the city with the theme of love and belonging, lighting up streets and buildings across the free three-night event.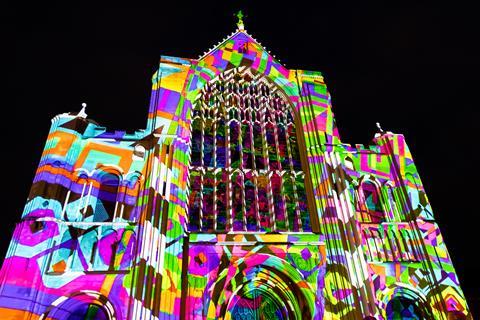 With a range of artists already confirmed, Norwich will play host to many international, national and local pieces of light art works. In 2020 more than 15,000 visitors headed out to enjoy Norwich at night for the bi-annual festival.
Running from 17th - 19th February 2022, groups attending the free event can just turn up by coach and use the official drop off and pick up points.
Stefan Gurney, executive director of Norwich Business Improvement District (BID) which organises the festival, said: "We're delighted to bring a beacon of light to Norwich once again with our Love Light Norwich festival where brilliant artists' stunning works illuminate our City of Stories.
"After a massively successful festival in 2020, Norwich Business Improvement District is thrilled to bring this unique free event back to the city. Arts and culture are integral to Norwich, and this relatively new festival creates an awe-inspiring attraction during low season supporting our local businesses and encouraging tourism to the City of Stories."
You can see what to expect in the video below:
Festival highlights
Nicholas Azidis will present Luminos Pareidolia, a new glittering projection for the festival. Creating pieces that are said to transform the viewer's perception of their surroundings with a blanket of luminescent designs, based on his inspirations which come from patterns in nature, machinery, geography and everyday objects.
Amber Lights will be bringing Out of the Cocoon, a butterfly-inspired installation which explores sustainability. She said: "I feel very fortunate to be asked to return to Love Light Norwich. I was lucky to take part in the first lighting event held in this historic city and I can proudly say that Norwich is my home-from-home since studying my BA degree at the Norwich University of the Arts back in 2001."
As well as light, sound is an integral part of the experience and mixing these senses with sculpture the festival will see artisitc group Pif-Paf appear for the first time exhibiting The Celestial Sound Cloud. Inspired by galaxies far away, the installation is suspended in mid-air, creating a dance space for audiences beneath, which in turn produces different music and light sequences.
Pif-Paf added: "We are so excited to be part of Love Light Norwich, we'll never take for granted the opportunity to get arts and culture out there again after a tough year, or two. We can't wait for everyone to enjoy, interact and maybe even dance under the magic of the Celestial Sound Cloud."