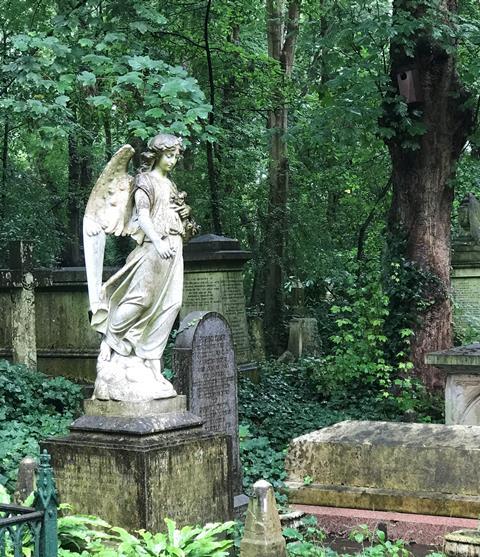 It's 11am, damp, misty and eerily quiet, except for the sound of seven pairs of boots trooping through the undergrowth. Our guide shepherds us carefully between the gnarled trees and twisted tombstones; illuminating our tour with his erudite, witty commentary as well as literally shining a light when we peer into the murkiness of the Grade II-listed catacombs, or thread our way gingerly past a thriving colony of rare orb-weaving spiders (I needn't have panicked – they live in total blackness and there's no way this morning that they're coming out to play).
When I visited Highgate Cemetery in north London I had no idea I would find the experience so awe-inspiring. With over 170,000 people in 53,000 graves, the cemetery is split into two halves, West and East. They each have a very different character, but are equally serene, beautiful, fascinating - and not in the slightest bit morbid.
The huge, ivy-shrouded West Cemetery is the perfect embodiment of a Victorian cemetery in all its crumbling glory; massive tombs and mausoleums were apparently as much for the living as the deceased, proving an ideal way for the Victorians to establish their credentials. Awash with impressive funerary architecture, I was particularly impressed by the Grade I-listed Circle of Lebanon crowned by a majestic ancient cedar tree, its roots confined like a giant bonsai, and the Egyptian Avenue (home to one of the biggest bat colonies in London, alongside those elusive spiders).
Highgate Cemetery is the final resting place of many eminent scientists, surgeons and newspaper magnates, and an astonishing number of famous actors, artists, musicians, writers and poets such as Christina Rossetti, George Eliot, Radclyffe Hall, Catherine Dickens, Lucien Freud, Douglas Adams, Jeremy Beadle, Malcolm McLaren, and in more recent years the former Russian spy Alexander Litvinenko and George Michael (who originally bought a plot for his beloved mum Lesley, buried next to him).
One of its most well known luminaries is Karl Marx, who lies in the more accessible East Cemetery. Our guide, Peter, reliably informs us that many Chinese now want to be buried at Highgate to be near this father of socialism, even though only 11 people attended Karl Marx's funeral in 1883.
The grave is well hidden but worth the search – and visitors can then look around the East at their leisure until closing time. Visits to the West Cemetery are by guided tour only,and can be organised for private groups of up to 40 people at £12 a head. Group tours are not available at weekends,but can be arranged all year round on weekdays (except Tuesdays) usually taking place in the morning. The cemetery is open every day except Christmas Day and Boxing Day, and it's best to make an initial enquiry by telephone (020 8347 2475). Please be warned though that group tours are very popular so do book as far in advance as possible.
Having survived countless break-ins, vampire scandals and inevitable tales of hauntings, Highgate Cemetery is undoubtedly a national treasure. For a unique, atmospheric tour with a difference, I can't recommend it highly enough.
Love affair with York
When I was 14 I won a ballet scholarship in York. Every Saturday morning I would catch the early morning milk train from my home town, Grimsby, and strive to walk some of York's ancient city walls before my dance class started. So began a love affair with this magnificent city that has never diminished. From the magnificent gothic Minster to the medieval Shambles (Europe's most visited street) York never fails to inspire and delight. Don't miss the magical Imaginarium shop, and sensational Fat Rascal scones in Betty's Tea Rooms.


Travel expert and TV presenter, Julie Peasgood is a regular columnist for Group Leisure & Travel.