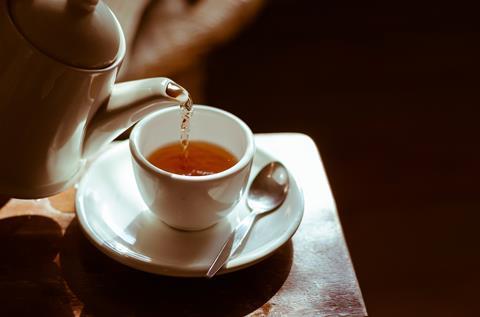 I like tea. In fact if I had to give up tea or champagne, it's the bubbles that would have to go.
"If you are cold, tea will warm you. If you are too heated, it will cool you. If you are depressed, it will cheer you. If you are excited, it will calm you." Wise words uttered by former Prime Minister, W. E. Gladstone, back in the 1800s and I heartily agree. So it seems, do a whole host of celebrated figures: everyone from the great Agatha Christie "Tea! Bless ordinary everyday afternoon tea!" to the inimitable Mick Jagger "I got nasty habits; I take tea at three."
Early on in my column I wrote about the UK's first tea pub, and last month I had the pleasure of visiting the East India Company for an illuminating tea tasting. A stone's throw from a hot and humid Oxford Street, the shop is a cornucopia of teas and teatime paraphernalia, with an atmosphere that is cool and fragrant; exotic bergamot and sweet lemon grass vie for attention alongside white chocolate covered strawberries (also offered during our session and naturally consumed within minutes).
Tea connoisseur, Michael Philpott, conducts the tasting with style and passion; we sample five or six of the company's finest brews, including Snow tea, hand-plucked Earl Grey and the newest kid on the block, Matcha and Turmeric - very high in antioxidants and soothing for the tummy. We journey from leaf to cup whilst nibbling on buttery biscuits, and learn how correct brewing time (3-4 mins depending on your brew) and water temperature (80 degrees) can make tea taste sublime. Warming the pot does matter (and here's me thinking it was just an affectation - perish the thought). If the teapot is cold, the temperature will drop and it's important that the temperature is as stable as possible.
If you take your tea seriously and fancy a group outing with a difference, Michael can accommodate up to twenty people for £20 a head. I found it an intriguing experience, and have actually started drinking tea from a proper porcelain cup rather than my usual builder's mug, and it really does taste better. We even went completely wild recently and had friends over for tea accompanied by cake and cucumber sandwiches…
You can find Michael at Michael.Philpott@theeastindiacompany.com and if you're planning on making a day of it in London, I can recommend two favourite museums of mine that are both a delight to visit: the extraordinary Sir John Soane in Lincoln's Inn Fields, and the stunning V&A Museum of Childhood in Bethnal Green.
Recently refurbished, and with as much appeal for adults as little ones, the latter showcases one of the world's best collections of children's toys, games, puppets, costumes and doll's houses, from the Victorian era to the present day. Book in advance if you can (especially for groups larger than ten) and afternoons are quietest. Be prepared for a gloriously nostalgic trip down memory lane.
Sir John Soane's Museum also presents more insights to the past. Fascinating and free (as is the V&A) this former home of the Bank of England architect encompasses a trio of London townhouses, and really is a hidden gem - with over 6,000 works of art and antiquities (including rare Hogarth canvases) furniture, architectural artefacts and curiosities from all around the world. There's even a folding room, which is the most unique way of storing paintings I have ever seen. They can happily accommodate groups but booking ahead is crucial here as space is limited and there's a great deal to see.