Cruise writer Jeannine Williamson samples the many flavours of this famous tea-growing region on a voyage down the breath-taking Brahmaputra.
The early morning sun glints on the vast expanse of water as our toes sink into the soft, warm sand and we stretch down to touch them - most people with more success than me. "Just reach down as far as you can and focus on your breathing," smiles our cruise director Neena.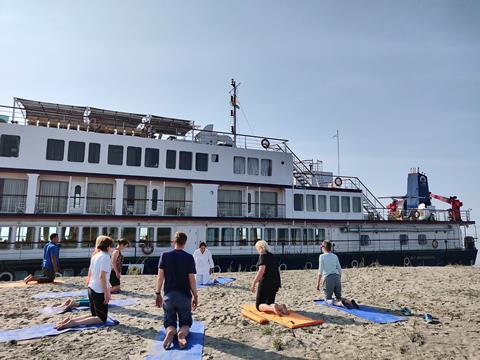 Earlier, as we sipped mango juice on the bank which had been covered by water a few weeks previously, Neena explained the principles of yog - later westernised as yoga - which in India is far more than physical exercise and encompasses all aspects of physical and mental health. The setting and her reflective and dawn philosophies were a world away from the few and rather serious yoga classes I'd attended, especially when we ended each session learning the positive effects of deliberate laughter and giggle our way back the Mahabaahu for breakfast.
The free daily classes, held on the bank or ship's sun deck, encapsulated the very real and authentic insights we gained during a week floating down the Brahmaputra, the world's fastest flowing waterway running through the north-eastern state of Assam. It creates a mercurial landscape that can change by the day, or even by the hour, as it rises to the height of a three-storey building during the monsoon season, forcing many villagers to abandon their homes. When they return after it recedes they are rewarded with rich alluvial soil to grow crops.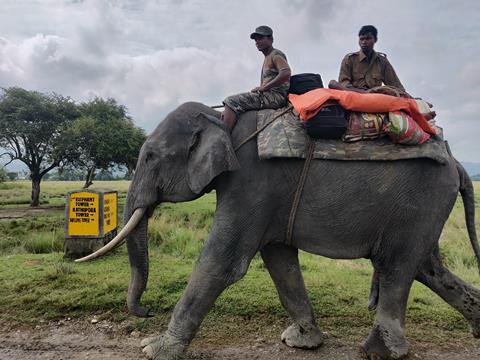 The Cruise Lines International Association (CLIA) UK & Ireland's annual River Cruise Review revealed that India experienced the highest percentage passenger rise with an increase of 27.5% of British travellers heading for the Ganges and Brahmaputra in 2017. Lesser-known than the Ganges, the Brahmaputra is nevertheless an extraordinary waterway and a cruise is a wonderful way for your group to discover the diverse experiences Assam has to offer.
Only sailing during the daytime - on clear days within the shadow of the Himalayas - the homely 46-passenger Mahabaahu is operated by long-standing India holiday specialist Far Horizon Tours. GTOs can book fully escorted cruises through Fred.\ River Cruises with the option to include stays in Kolkata and Delhi that can also take in the Golden Triangle and Taj Mahal.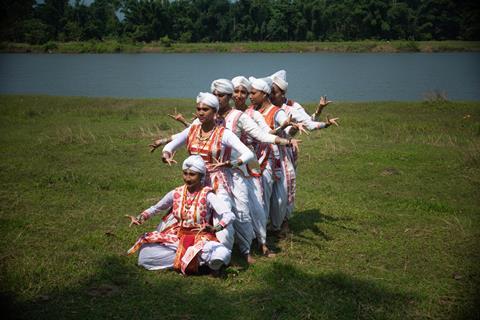 We were pampered by the charming Indian crew who variously welcomed us back from excursions with cold towels, refreshing juices and an ultra-efficient shoe cleaning service and later poured restorative G&Ts as we talked about the day's adventures before moving to the dining room to continue conversations over an ever-changing and delicious choice of Indian and western dishes.
Each day brought unforgettable excursions. One morning we'd be walking around villages with an entourage of children in our wake, another visiting silk weavers to buy jewel-bright lengths of fabric that were transformed into beautiful tops and dresses by Mahabaahu's on board tailor. We saw intricate dance displays, learned how to chant in incense-filled temples, called in at a school and went on thrilling waterborne and land-based safaris, most notably Kaziranga which is home to India's largest population of one-horned rhinos and the magnificent albeit elusive royal Bengal tiger. These trips were further enhanced by the sharp eyes and in-depth knowledge of the ship's naturalists and guides, who kindly gave us a memory stick of their photos to take home.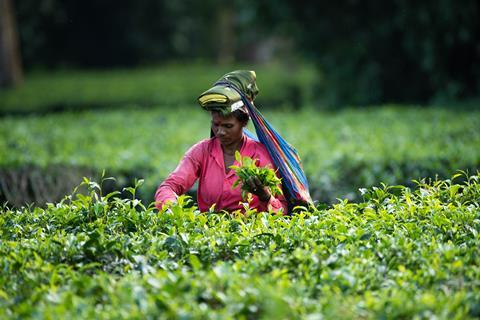 Travelling through the world's largest tea-growing region we were never far from a decent cuppa, especially when we toured an estate and tea factory. So if your group members are hankering for a river cruise with a difference, this exotic trip will certainly be their cup of tea.
For more information visit www.fredrivercruises.co.uk/far-horizons.