Former British athlete and Olympian Sally Gunnell OBE officially named the first ship sailing for the group-friendly Ambassador Cruise Line, which is in turn the first new British cruise line to launch in more than a decade. So, how was that party and more importantly, what does the ship offer for group holidays?
I joined a most glamorous masked ball event held aboard Ambience on 19th April at London Tilbury when Sally pressed the button to crack a traditional bottle of Champagne across the bow of the 1,400-passenger ship. In another seafaring custom the 1992 gold medallist in the women's 400 metres hurdles became godmother of the vessel which offers no-fly cruises from its homeport in Essex.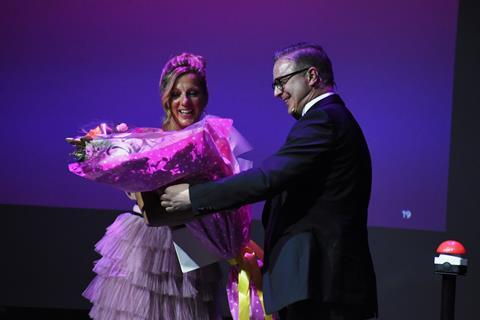 Sally Gunnell said: "It is an absolute pleasure to be godmother for Ambassador Cruise Line's first ship, Ambience. Ambassador celebrates its first anniversary this month and since its launch in 2021, has firmly established itself in the cruise industry.
"Ambassador has a collection of brand values that I too strongly believe in, from community and wellbeing to being sustainable and ethical. This commitment demonstrates that Ambassador is a responsible cruise line and one that I'm extremely honoured to be working with."
"Ambassador has a collection of brand values that I too strongly believe in, from community and wellbeing to being sustainable and ethical."

Sally Gunnell OBE, Olympian and Ambience Godmother
More than 500 guests, travel trade partners and suppliers attended the naming and blessing of the ship, which was followed by a celebratory meal including Ambassador's signature baked Alaska parade where chefs and waiters carry desserts topped with sparklers through the darkened dining room.
Introducing Ambience - what's it like?
With 789 crew members, Ambience offers high levels of personal service on a ship with large areas of public space and classic features including a wraparound promenade deck and lido deck with two swimming pools.
The hub of the vessel is the three-deck Centre Court atrium and there are five restaurants, including speciality dining options available for a small extra fee – the Indian curry house Saffron, Sea & Grass surf and turf and Chef's Table where a multi-course tasting menu is served.
The two main dining rooms are the Buckingham Restaurant with an a la carte menu and the casual Borough Market food court which is divided into different areas including the Salt & Vinegar fish bar, Asian-style Points East and an Italian counter. From a full English breakfast to roast lunch and desserts, including bread and butter pudding, passengers can expect plenty of familiar favourites alongside more exotic dishes.
Bars and lounges include the British-style Purple Turtle pub, retro Raffles Bar and restful Botanical Lounge. There's a two-deck theatre with daily shows and night owls can dance into the early hours in the Observatory, which also doubles as a daytime lounge with panoramic views. A novel touch around Ambience is artwork made up of nautical flags which can be decoded to spell out a message.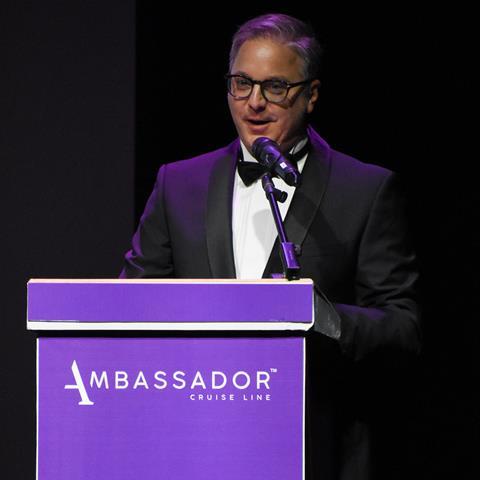 The 714 staterooms range from inside cabins to large suites with balconies, and there are 12 wheelchair accessible cabins and rooms available for solo travellers. Again, they have been designed with British passengers in mind and all come with a kettle for making tea and coffee and three-pin plug sockets.
Ambassador CEO, Christian Verhounig, told Group Leisure & Travel: "We carry a maximum of 1,400 passengers and what Ambience offers is a massive guest to space ratio. She is unique for a ship sailing out of the UK and offers the warmest welcome at sea.
"Our research showed that 49% want to go on a no-fly cruise from England and 25% want to see multiple locations during their holiday, which only a cruise provides. We have set ourselves in a very particular niche which is predominantly 50-plus and only British guests, so you will find a lot of like-minded guests onboard. This is very different from many other cruise products which cater for everybody. We are 100% in control of the product so what sets us apart is that we approach this in a very personal way to provide a great service and experience."
"Our research showed that 49% want to go on a no-fly cruise from England and 25% want to see multiple locations during their holiday, which only a cruise provides."

Christian Verhounig, CEO, Ambassador Cruise Lines
What about groups?
Groups of 15 or more benefit from a 5% discount with a free place for every 25th passenger and a range of perks.
Deborah Rixson, Ambassador's business development manager for southern England, Wales and groups, said: "We offer a lot of flexibility for groups and make sure we take them from the start of the booking all the way through to joining the ship. We always try to make things very personal, such as one person handling everything from the initial inquiry as we know people don't want to be handed from one person to another.
"We offer cocktail parties to groups and always ensure they dine together. We can accommodate special interest groups such as dance and craft groups where we will arrange for them to have a special area where they can enjoy their hobby and we will store any equipment they bring with them. We have our own bridge cruises, but if a bridge group joined one of them and wanted their own area then we could arrange that. Our biggest thing for groups is the flexibility we offer."
Deborah added how Ambassador was proud to be one of the official Award Partners for the Group Leisure & Travel Awards 2022 and is looking forward to attending the ceremony itself on 5th October in Milton Keynes.
Ambassador's second ship, the 1,200-passenger Ambition, will enter service in spring 2023 and also offer no-fly cruises from London Tilbury and other regional ports including Falmouth, Liverpool, Newcastle and Belfast.
Ambience's first season
It's a busy one and includes 31 sailings calling at over 90 different ports in 36 countries. Itineraries include exploring the British Isles, the Norwegian Fjords, the Nordics, Greenland, the Arctic, and Iceland, plus several short break cruises. For the winter months, a range of exploration style voyages will sail to the Canaries, Cuba, the Caribbean, Cape Verde, and Scandinavia.
For more information about Ambassador Cruise Line and Ambience, visit www.ambassadorcruiseline.com

With a background in newspaper and magazine journalism, Jeannine is an experienced and accomplished travel writer specialising in river and ocean cruising. She has written for Group Leisure & Travel for over 15 years and contributes regularly to a wide variety of consumer and trade publications including national newspapers, magazines and websites.