Groups remain a key focus for Ambassador Cruise Line as it launches its second ship, Ambition. GLT were among the first on board - here's what we thought.
"Amour", "Amaze" - conversations over dinner after the official christening included name suggestions for Ambassador Cruise Line's next ship. We've seen the launch of Ambience, which set sail just over a year ago, and now Ambition. Given that the cruise line has had such a whirlwind journey already (it only launched commercially in June 2021), the prospect of a third ship is not just a pipe dream, it's almost inevitable, hence the name suggestions.
The aptly named Ambition is a fantastic addition to the no-fly cruise line, the first British cruise line to be launched since 2010. With a capacity of 1,200 guests (713 cabins), compared to its 1,400 capacity sister ship Ambience, it's big enough to have absolutely everything you could possibly want for the full experience, but small enough to feel intimate with a very warm and welcoming atmosphere.
Its spacious cabins have a "home from home" feel about them, they average about 15-16 square metres and you can choose (broadly) from standard, superior, premium or deluxe. And groups will be especially pleased to hear there are 78 single sole occupancy cabins on the ship with various grades.
A friendly welcome on board Ambition, Ambassador's second lady of the sea
In fact, spacious yet welcoming was a phrase I heard more than once from guests on board Ambition for her official christening in Newcastle's Port of Tyne. I didn't get lost on board during my stay, which is a good sign, and yet there was plenty to explore.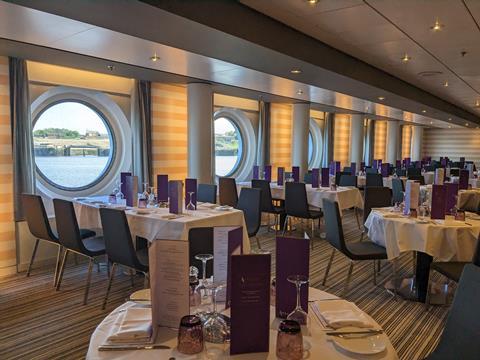 From Ambition's two main dining rooms, Buckingham and Holyrood, to the more casual Borough Market and then the speciality restaurants, Saffron and Olympic Taverna, the dining experiences are varied and the food we sampled was incredible.
Of course a cruise christening wouldn't be complete without a suitable amount of bubbles and we had plenty of choice. Starting on the sun deck, living up to its name with the most glorious weather (nice one Newcastle!), and then working our way down to the elegant Pendennis bar, cruise guests are never too far from the bar.
We were also treated to a taster of the fabulous entertainment on board with a sneak preview of the team's Night at Nashville performance and then a surprise ABBA rendition in the timeless Cavern bar later in the evening. It's very appropriate that Ambassador's motto is "enjoy yourself".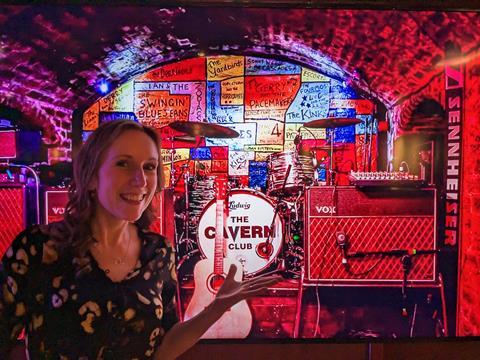 And there's no need to worry about the morning after either. Relaxing is actively encouraged on board, especially at the Green Sea Spa, beautifully designed to offer a sauna, steam room and even a relaxation room which looks out onto the ocean as you cruise.
"What I love about Ambition is how relaxed and yet luxurious it feels. The balance between a home from home and escapism is spot on."
You can get your glass of fancy bubbles, but kick back in one of the sun lounger 'pods' on top deck. Or you can devour delicious food while feeling completely at home.
What you experience on the surface is just a touch on the mammoth effort that has gone on behind the scenes, and continues. Not least the staggering 11,000 litres of paint to refresh the now very bright and unmissable Ambition, as well as initiatives including its own bottling plant on board to provide still and sparkling water.
Great deals for groups
Groups of at least 15 can benefit from a number of offers including group discounts, free places as well as a special onboard welcome cocktail party and preferential group dining arrangements.
Organisers can find out more here.
British sailor Shirley Robertson OBE is Ambition's godmother
With an apt name, Ambition also has a very apt godmother - Shirley Robertson, OBE. British sailor and Olympic gold medallist, Shirley became the first British woman to win an Olympic gold medal at consecutive games, Sydney 2000 and Athens 2004.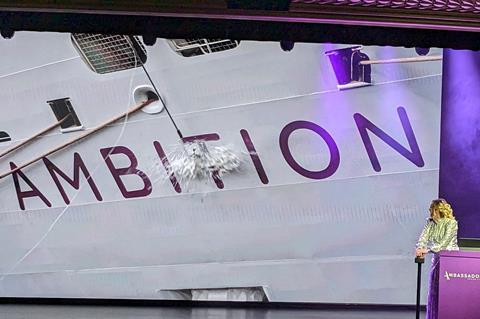 Speaking to guests during the ceremony, she spoke of her own experience about how the "smallest details, the smallest gestures, can add up to the bigger picture", adding: "The last few years in the cruise industry have been tough but that adversity can actually be a big catalyst. It can drive the resilience to achieve…a desire to push the boundaries of this very established industry but all built on a bedrock of good people with attention to detail and getting the small things right at the right time."
Ambassador's aim is to provide an authentic premium-value cruising experience. Chief commercial officer Phil Gardner likened it to offering "M&S quality at Aldi prices". And the fact that they hosted 30,000 guests on board Ambience in its first year shows there's clearly an appetite for this type of cruising.
"We do have big ambitions. With the launch of Ambition, we will be hosting just below 100,000 guests in the 2023/24 season."

Ambassador Cruise Line CEO, Christian Verhounig
Now sailing from eight regional UK ports, its CEO Christian Verhounig told guests at the event that it showed their "commitment and belief to the business and its bright future".
Cruise destinations include the Nordics, Greenland, Iceland, Canada, the Mediterranean, Caribbean and Africa.
Ambitious plans for Ambition
Ambassador Cruise Line didn't even exist less than three years ago. At the end of 2020, chairman Gordon Wilson said the company was just a piece of paper with no name, no brand, ship or customers. Oh and the small matter of being in the middle of a global pandemic.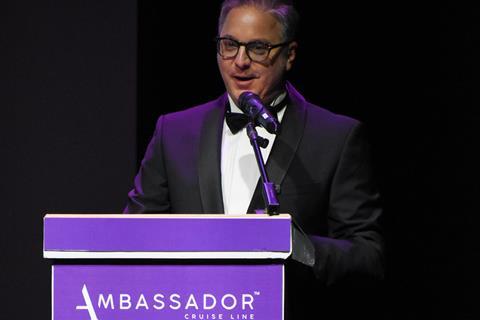 They bought their first ship, now known as Ambience, in February 2021, launching commercially four months later and then operating their first cruise in April 2022.
He said: "So it's somewhat surreal that we're standing here today launching our second ship. Ambience has already visited more than 100 ports and the company had an £80m turnover and made a profit in its first year of operation.
"We have sailings originating in more UK ports than any other cruise line and Ambition is among the world's top 10-15% of most environmentally friendly cruise ships."

Not bad at all for a cruise line that's just over a year old and with such an impressive start and customer offer, we best get those thinking caps on for name ideas!
Find out more about Ambition, Ambience as well as the story of Ambassador Cruise Line so far, here.

Keeley is the editor of Group Leisure & Travel and its portfolio of magazines, publications and websites.