Set to open in London this autumn, Frameless is a new multi-sensory attraction which invites visitors to actually step inside the artworks themselves.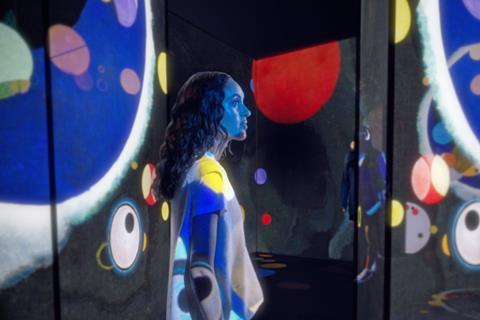 Housed in a venue a short walk from Marble Arch, the experience will feature four galleries including iconic masterpieces from the likes of Cezanne, Van Gogh and Rembrandt, to name a few.
Frameless uses immersive technology, with almost 500 million pixels delivered by a million lumens of light, combined with a score of classical and contemporary music played over 158 surround-sound speakers.
Visitors won't simply be looking at paintings, they'll be 'in them' as part of the experience, thought to be the biggest of its kind in the UK. It will open on Friday 7th October and tickets are now on sale.
The four galleries will explore different themes:
Beyond Reality: travel beyond the boundaries of reality and discover iconic artworks that explore other worlds, dreams and the surreal. Artworks include Garden of Earthly Delights by Bosch and The Tree of Life by Klimt, with additional artworks from Munch, Arcimboldo, Lowinsky, Rousseau, Dali and Ernst.
Colour In Motion: encounter every brush stroke and slash of paint within these masterpieces, to experience colour in a really new way. Artworks include Waterlilies and Japanese Bridge by Monet and Mont Saint-Michel by Signac, with additional artworks from Van Gogh, Seurat, Morisot and Delauney.
The World Around Us: step into landscapes, cityscapes and seascapes that capture the beauty of our world. Artworks include Avenue at Chantilly by Cezanne and Piazza Di San Marco by Canaletto, with additional artworks from Rembrandt, Monet, Rubens, Turner, Friedrich and Ruysch.
The Art of Abstraction: wind through a maze of colour, shape and form to discover the pioneers of abstract art. Artworks include Yellow, Red, Blue by Kandinsky and Composition in Red, Yellow, Blue and Black by Mondrian, with additional artworks from Klimt, Malevich and Klee.
There will also be a cafe bar, gift shop and event space available for private hire.
Scott Givens, chief creative officer for Frameless, said: "Leading the way as a new generation of digital art experience, Frameless has been brought to life by an ensemble of experts and world-class technology to create a one-of-a-kind experience - I can't wait for the world to see it!"