The 2019 festival at Longleat in Wiltshire promises to take visitors on a thrilling odyssey with hundreds of illuminated lanterns.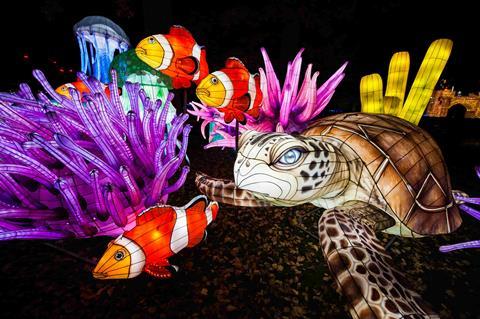 Organisers of Longleat's Festival of Light have announced that this year's theme will be 'Myths and Legends'.
Think gods and magical beings of ancient Greece through to heroic tales of British folklore with a colossal sea monster lurking in the depths of Longleat's Half Mile Lake.
Running on selected dates from 9th November until 5th January 2020, the festival is set in more than 30 acres of 'Capability' Brown landscaped grounds, transforming the estate as darkness falls.
What else can visitors expect this year?
The 20-metre Enchanted Christmas Tree Show, a previous favourite, is returning for the 2019 festival.
Dressed for the festive season, visitors can experience the glitz and grandeur of Longleat House.
The much-loved Santa Train will also be available for groups with younger members.
The Festival of Light is included in a Group Day Ticket and pre-booked groups of 12+ can access exclusive discounts and perks such as generous reductions to entry price, free driver meal vouchers and tickets, and complimentary organiser tickets.
GLT Award winner
Longeat's Festival of Light was voted the Best Christmas Experience by readers of GLT Magazine in 2018. Voting, entries and nominations for the 2019 Awards are now open, have your say at www.groupleisureandtravel.com/awards
Extending your visit
Groups can add lunch, or a behind the scenes tour of the ancestral and opulent Longleat House, ahead of experiencing the Festival of Light.
There are a number of catering options available including the Cellars Café, in the vaults of Longleat House, which seats up to 55 guests in an atmospheric setting. For larger groups, the Longhouse seats up to 200 and promises a delicious Christmas lunch. Alternatively, groups of up to 45, can opt for a Luxury Afternoon Tea in the picturesque setting of Lord Bath's Banqueting Suite. The menu is curated by Emma, the Viscountess Weymouth herself, with a festive theme to match the beautiful wintery season.
A variety of tours of Longleat's stately home are available including the Scandalous History Tour which takes in the famous (and infamous) salacious gossip surrounding the some of the more controversial goings on in the house over the centuries.