The Royal Philharmonic Orchestra (RPO) will host a special taster event to encourage group travel organisers to bring their members to a concert for the first time.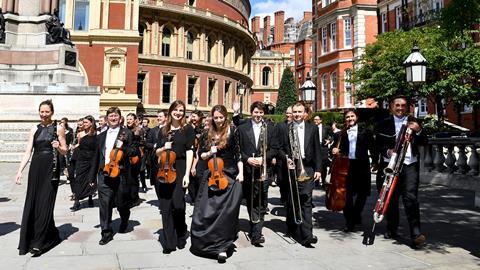 The event will be held on 15th October at the Royal Albert Hall at 6.30pm, before the Orchestra's Symphonic Queen show which will be presented by BBC Radio 2 presenter, Ken Bruce, later that evening.
According to the RPO, groups account for more than a quarter of all of the Orchestra's London Season audiences, with discounts available to groups as small as six.
Group travel organisers will receive up to two free reception passes and concert tickets to Symphonic Queen, if they have never booked on to a RPO event before.
The taster evening is for new, prospective RPO group bookers only but does not exclude organisers who have seen the RPO through an external company.
There are many other group benefits of attending one of the many concerts throughout the London season, such as further ticket reductions and no payment needed until two months before the performance.
Jo Thomson, RPO friends' & groups' manager, and winner of The Excellence Award in 2012, said: "We'd be thrilled to welcome group travel organisers and their members to an RPO concert soon, and we guarantee to get them the best possible deal."
Symphonic Queen
Visiting groups to the taster session will be able to watch a live performance, paying homage to Queen, featuring all the hits. Each song will be given a symphonic twist accompanied by a light shows in the grand setting of the Royal Albert Hall.
Songs that will feature in the set-list include, We Will Rock You, Crazy Little Thing Called Love, Don't Stop Me Now, Another One Bites the Dust, Bohemian Rhapsody and many more.
Other group-friendly concerts taking place in 2020
Holst's The Planets | 4th February, 7.30pm | Royal Festival Hall: Described as a 'breathtaking masterpiece', this concert gives a soundtrack to our solar system, taking a look at its astrological qualities.
Orchestral Valentines | 14th February, 7.30pm | Cadogan Hall: This concert features a range romantic hits and well-known themes from film, opera and classical music. Gone with the Wind, Doctor Zhivago and Breakfast at Tiffany's are just some of the films included.
Great Choral Classics | 19th April, 3pm | Royal Albert Hall: The RPO will be joined by choirs to play and sing a host of anthems such as Rule, Britannia and Jerusalem.
Film Music Gala | 9th May, 3pm & 7.30pm | Royal Albert Hall: These two shows will include themes from some of the world's most well-known films, such as Gladiator, Harry Potter, E.T., Indiana Jones, The Lord of the Rings and Jurassic Park.
For more information about group trips to the RPO, email groups@rpo.co.uk or call 020 7608 8840