The Old Royal Naval College in Greenwich has announced a new Coach Tourism initiative which allows coach operators and groups to pre-book entry and drive onto the historic site for the first time.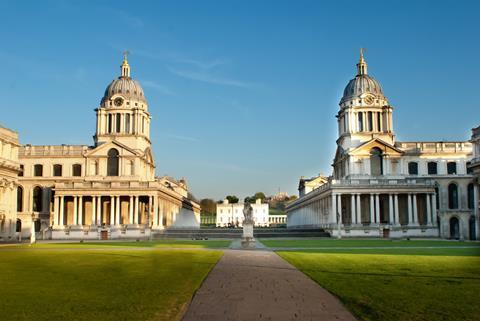 Up to two coaches per day will be allowed onto the Old Royal Naval College campus in Greenwich, with guests able to disembark on the site's main avenue.
The initiative is the latest of a series of measures that have seen the Old Royal Naval College become one of the most coach and group friendly attractions in the area. It aims to support the recovery of the coach and groups industry by playing its part in keeping Greenwich "as coach friendly as possible".
There are two coach parking options available for groups and coach operators:
All day in Greenwich: Groups and coach operators spending a day in Greenwich can book a slot and drive their coaches onto the site for 30 minutes at the start and end of the day to allow groups to arrive and depart Greenwich safely. Once off the coach, the group will be able to enjoy the sights and sounds of Greenwich including the Old Royal Naval College, the Cutty Sark, Royal Observatory, The Queen's House, The Old Brewery and the Fan Museum before getting back onto the coach to head home. During the time the group is discovering Greenwich, the coach will need to find a coach parking spot nearby.
On the way: Tour series or day trip operators, whose groups visit the Old Royal Naval College as part of an itinerary, can book a time in advance and have their coaches enter the site and park for up to 90 minutes. This will allow groups to explore the site on their own or as part of a guided tour before heading off to their next stop. Coach drivers will be offered free entry and tea, coffee and cake whilst they wait for their groups.
Matthew Mees, CEO of the Old Royal Naval College, said that their goal had always been to "make the site as interesting and as accessible as possible, for all".
He added: "There's so much to do and see here that it's easy for a group to spend a whole day exploring. We are looking forward to welcoming more coach operators to our site and I hope this new opportunity for coaches helps to cement our commitment to the industry as we work together to recover following the effects of the pandemic."
The attraction, in the heart of the Maritime Greenwich UNESCO World Heritage Site, offers group rates, flexible policies and plenty of experiences for groups to discover including entrance to the magnificent Painted Hall, the Chapel of St Peter and St Paul and the on-site Visitor Centre.
Groups can take advantage of the Old Royal Naval College's guided tours, workshops, and catering choices including a traditional afternoon tea, on-site pub and an ever-changing exhibition and events programme.
For more information or to make a booking contact the Old Royal Naval College box office at boxoffice@ornc.org or visit www.ornc.org