'Always Playing' is the orchestra's new digital programme, sharing archive performances with audiences.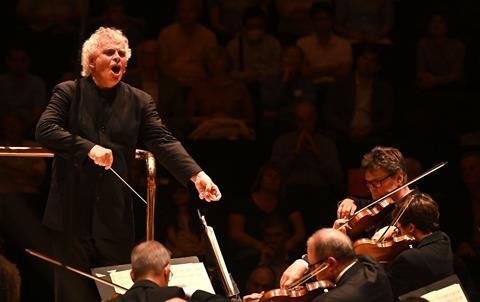 While the London Symphony Orchestra's (LSO) original schedule of Barbican concerts is no longer going ahead due to the venue's temporary closure, past performances will be shared for free on the LSO YouTube channel.
The full-length concerts available to watch are led by LSO conductors such as music director Sir Simon Rattle and the orchestra's principal guest conductors, Gianandrea Noseda and François-Xavier Roth.
Guest artists also appear in the online performances, including singers Daniela Barcellona, Barbara Hannigan, Christiane Karg and Anna Larsson. A variety of guest pianists and violinists also take to the stage.
The first video was streamed on YouTube on 29th March: Sibelius Symphony No 5, which was originally performed and broadcast from the Barbican Centre in 2018.
Audiences can tune in to watch nine more performances as they are streamed on LSO's YouTube channel, with two performances a week scheduled. These have a shared viewing experience in mind, with the LSO stating that 'we hope that you will be able to sit down and watch at the same time as friends and family, wherever they are.'
The nine concerts scheduled in the 'Always Playing' programme are:
Brahms Symphony No 1 - 2nd April at 7.30pm
Verdi Requiem - 5th April at 7pm
Stravinsky ballet music - 9th April at 7.30pm
Rachmaninoff Piano Concerto No 2 - 12th April at 7pm
Mahler 2 - 16th April at 7.30pm
Bernstein Prelude, Fugue and Riffs - 19th April at 7pm
The Rose Lake - 23rd April at 7.30pm
Stravinsky: The Rite of Spring - 26th April at 7pm
Adams and Berlioz - 30th April at 7.30pm
Along with this, the orchestra is promoting other methods of keeping entertained during the coronavirus lockdown. This includes a 'read, watch and listen' series where LSO staff detail which audio books, live recordings and other resources are keeping them positive. The team are also updating the LSO blog and recommending videos to watch. To see what they're sharing, visit lso.co.uk/whats-on/2019-20-season/alwaysplaying.
Interested in watching one of LSO's 'Always Playing' concerts? Keep up to date by visiting the website. Performances will be streamed on YouTube at www.youtube.com/user/Lso.