Cruise line, Holland America, has revealed the latest addition to its fleet, the Ryndam, which is expected to be delivered in 2021.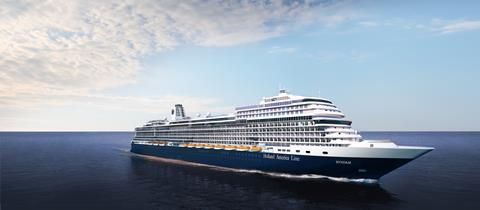 In a nod to its long line of historic ships, Holland America Line has announced that its next Pinnacle Class ship will be called Ryndam.
The new build, due for delivery in May 2021, will be the fourth ship in the company's history to carry the name.
Orlando Ashford, Holland America Line's president, commented: "Holland America Line honours the timeless tradition of cruising while also embracing new innovations for today's travellers, and the name Ryndam reflects the unique history of this company while honouring previous ships that were progressive in their time as this last Ryndam will be.
"From the first Ryndam more than 100 years ago to the most recent, the namesake ships have been beloved by our guests. The next Ryndam will bring new life to one of the most notable series of vessels in our history."
About Ryndam
Ryndam will be similar to sister ships Koningsdam and Nieuw Statendam, measuring 99,500 tonnes and carrying 2,662 guests.
As the third in the series, Ryndam will feature enhanced amenities and innovations.
The steel cutting for Ryndam, signifying the official beginning of the building process, was held on 13th March at Fincantieri's shipyard in Marghera, Italy.
Details of the ship's maiden sailings are yet to be revealed.
Groups travelling with Holland America Line
Holland America offers cruises all over the globe, including voyages to the Caribbean, Alaska, Hawaii and Tahiti and Australia.
Group cruises or charters can include benefits such as airport transfers, staterooms, entertainment and catering. Groups can also hire meeting rooms, lounges and dining locations within their package. Shore excursions can also be tailored to your group's interests.
The Nieuw Statendam was the most recent ship to be launched (December 2018) and will this year be sailing to destinations including the Northern Isles, Norwegian Fjords, and the Baltic among others. Details of 2020 and 2021 cruises can be found online too. You can read a review of the Nieuw Statendam here.
For more information visit www.hollandamerica.com
Holland America Line's Historic Ships Named Ryndam
The first Ryndam was part of the Holland America Line fleet from 1901 to 1929, starting as Rijndam before receiving the English spelling in 1923.
In 1927 Ryndam I became the first Holland America Line ship to sail a world cruise, although it was chartered as a floating school at sea for that voyage.
The second Ryndam served from 1951 to 1973, and the third sailed in the fleet from 1993 through 2015, when it was transferred to sister brand P&O Australia and now cruises as Pacific Aria.