A new display celebrating more than 200 years of royal-inspired packaging and jubilee souvenirs will open at the Museum of Brands in London's Notting Hill to mark The Queen's 70th year on the throne.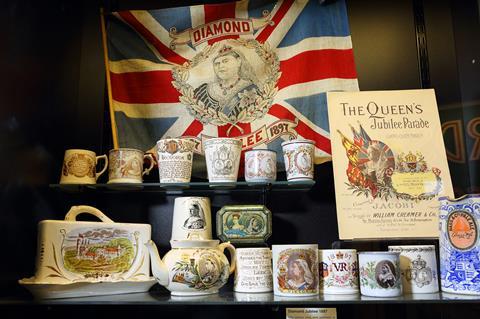 The exhibition will display products and brands that show how UK consumer culture and royal history has changed since the Victorian era.
It will shine a spotlight on some of the weird and wonderful objects that have been designed to commemorate members of the Royal Family and royal events from the past, from a rare 1830s gin flask celebrating Queen Victoria and to a 120-year-old chocolate bar commemorating the coronation of King Edward VII, to a set of the recent 'Platinum Jubbly' crockery – one of 10,000 souvenir items produced in China with a comical misspelling of Jubilee.
Alongside the visual displays, visitors can get involved by making their own Jubilee-themed bunting and crown, and enjoy two new Jubilee trails for children and adults which call attention to some of the captivating royal objects of the Museum's collection.
Queen Elizabeth II came to the throne in 1952 and her 70-year reign has seen tremendous change. When she came to the throne the space race had not yet begun, and only 14% of households owned a television set – with only one channel – the BBC.
Identity cards were compulsory and tea rationing, which was introduced during World War Two, was still in place. The display transports visitors back to this time and before through a variety of interesting products.
Hands-on experience
'Please Touch' is another highlight revealed by the museum, described as free object handling sessions that will take place over the Jubilee weekend from Thursday 2nd to Monday 6th June, offering visitors the chance to handle and explore objects from the 1953 coronation and the 1977 Silver Jubilee.
Children go free on the Jubilee bank holiday weekend and adult tickets last for a whole year.