Ambassador Cruise Line is inviting group travel organisers on board its two ships with a series of visits in a selection of UK ports.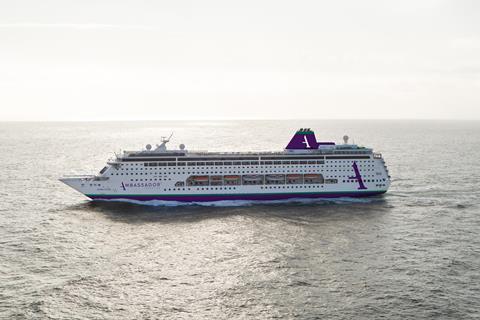 The no-fly cruise line has opened registrations for the visits to experience either Ambience (currently in service) or its newest ship, Ambition, which launches in May.
With selected dates from March to December and at ports including Tilbury, Newcastle and Liverpool, group travel organisers will have time to explore the ships and the on-board facilities before sampling a four-course lunch in the main restaurant.
There are 17 ship visit dates available, split across Ambience and Ambition. To register for a group visit, organisers are invited to email groupsales@ambassadorcruiseline.com for a registration form.
Groups of 15 or more booking cruises on either ship will benefit from a 5% discount with a free place for every 25th passenger and a range of perks.
Ambition's godmother is…
It comes as Ambassador announced that British sailor and double Olympic Gold Medalist Shirley Robertson OBE will be the godmother of its second, and newest ship, Ambition. Shirley, who made history when she became the first British woman to win two Gold Medals at two consecutive Olympic Games (Sydney 2000 and Athens 2004), will name Ambition at an official ceremony in Newcastle in May.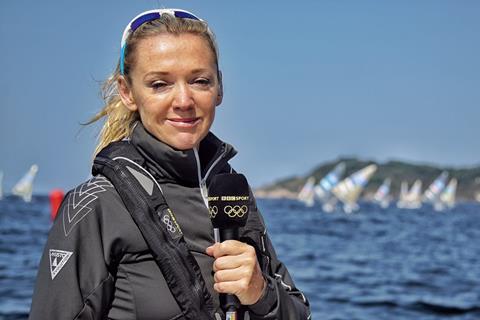 Shirley will then join the ship's first cruise departing Newcastle on 12th May ahead of its inaugural 14-night Hidden Gems of France and Spain sailing.
She said: "I was drawn to Ambassador from the very first contact - I love their passion for quality service and their drive to look for sustainable options at every turn.
"I'm also a big fan of holidays that don't involve the stress of airports and love the beauty and variety our very own coastline offers. Being at sea, and the excitement of arriving somewhere by sea, is very special."
Ambition is the second ship to join the Ambassador fleet following Ambience, which sailed for the first time in April 2022 and operates from Tilbury with a 1,400-passenger capacity.
Ambition is aptly named to emphasise the brand's commitment for guests to enjoy an authentic cruise experience effortlessly and sustainably.
Read our review of Ambience when we went on board for the christening in May 2022 at which British athlete and Olympian Sally Gunnell OBE officially named the ship >>>.
What guests can expect
The ship will carry up to 1,200 passengers in 714 cabins, 125 of which have balconies and 113 are suites.
Dining options will include two main restaurants, speciality dining options, and a more casual bistro style café, plus four bars, lounges and a wine bar.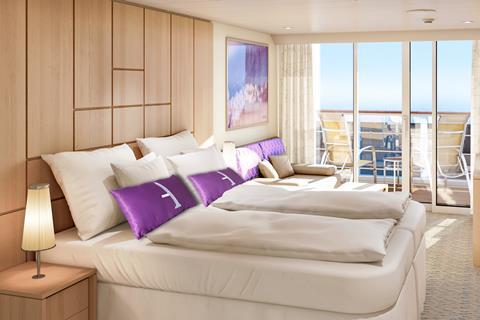 Entertainment offerings include the main theatre, a card room, library and craft studio. Additional guest facilities will include the wellness centre, gym, two swimming pools and a range of retail shops, perfect for days at sea.
Following her maiden voyage from Newcastle, Ambition will sail from an additional six regional UK ports in her inaugural year including London Tilbury, Dundee, Liverpool, Belfast, Bristol, and Falmouth.
About Ambassador Cruise Line
It launched in 2021, offering premium-value no-fly cruises to the UK market. Based in Purfleet, Essex, Ambassador provides authentic adult-only experiences combined with a selection of multi-generational itineraries to multiple destinations including the Nordics, Greenland, Iceland, Canada, the Mediterranean, Caribbean and Africa.
For more information, visit www.ambassadorcruiseline.com