The Group Leisure & Travel Show has experienced another successful year, with both group travel organiser visitors and show exhibitors impressed by the quality of the show and the business leads made throughout the day.
The 2018 Group Leisure & Travel Show has been another success, with both visitors and exhibitors describing it as 'extremely helpful', 'great for ideas' and a 'wonderful event'.
Throngs of visitors came through the doors of Hall 19 at the NEC to meet and network with over 200 exhibitors from the group travel industry and coach tourism sector. The show was moved to a bigger hall this year to accommodate an increase in the number of exhibitors and the volume of guests indicate that visitor numbers will also be up from last year.
Show Director Graham Yandell said: "It's always a privilege and a pleasure to bring people together at this event. Once again we've had a hugely successful day and I would like to thank the visitors that attended and our exhibitors who did such a fantastic job in helping us put together the group travel sector's leading show. Roll on Milton Keynes in 2019!"
GTOs and coach operators were able to meet and chat to a varied range of exhibitors from destinations, accommodation providers, tour operators, attractions, stately homes, cruise companies and shopping centres and theatre productions. Deals were done, dates were penned into diaries and GTOs walked away with inspiration for at least another year of group trips and holidays.
GTOs feedback
Group organiser Kate Howe of Stevenage Travel said: "I've spoken to LeisurePlex, Warner Leisure, Kew Gardens, See Tickets and Culture Coventry and it has been good to get a variety of ideas. It has also been great to hear about different theatre shows such as Come From Away, Nine to Five and The Waitress."
Roger Tacq group organiser for the Huntingdon U3A, commented: "It has been absolutely fantastic today, we've really enjoyed coming back to the GLT Show. The speakers have been great and Gyles Brandreth was on good form. Because of Brexit we've been looking at different UK destinations and attractions to visit with our group and there has been so many of them at the show today to speak to."

Exhibitor feedback

Graham Goodwin , tour guide and ex-officer, from Jailhouse Tours said: "Having the jail van here has brought so much interest in today, what we offer is really different but it's also a bit of fun as well. GTOs are always looking for the next best thing so it's very useful to exhibit here."

Anna Fletcher from Cotswold Tourism said: "The show has been really busy today, we've had lots of different types of people coming to the stand and lots of genuine interest in what we offer. A few years ago people were asking where the Cotswolds were but now it's a case of us telling them about everything that is on offer because the Cotswolds is well and truly on the map."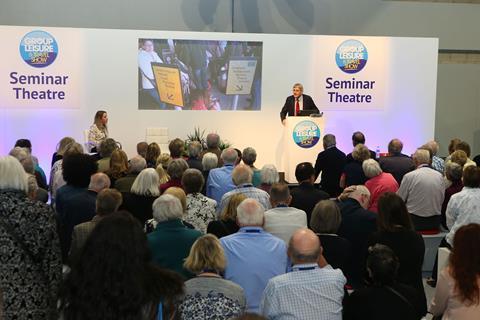 The Seminar Theatre

The Seminar Theatre was a big hit yet again as three sessions took place throughout the course of the day.

Talks were led by TV personality Gyles Brandreth, senior travel editor of The Independent and TV pundit Simon Calder, and celebrity gardener, Carol Klein, who is a presenter on Gardener's World and other programmes.
Each of the speaker's talks were packed out; Gyles Brandreth gave an interesting talk on Travels of a Lifetime, meanwhile visitors enjoyed Travel Talk with Simon Calder.

Carol Klein concluded the Seminar programme with a talk on Britain's Best Gardens and said: "Gardening lifts you beyond and elevates us all. It's a wonderful thing to do, visit a garden, and it can inspire us all."

Next year's Group Leisure & Travel Show

The Group Leisure & Travel Show 2019 will take place at a new venue on Thursday 10th October next year at The Marshall Arena at Stadium MK, Milton Keynes.

Organisers say there has already been a "fantastic response" to the new venue for 2019 with almost 40 per cent of stands already booked.

The black-tie Group Leisure & Travel Awards dinner will be staged the previous evening on Wednesday 9th October, 2019 at the Hilton Hotel, which is immediately adjacent to the stadium and halls.

Stand bookings for the 2019 show and Awards partnerships for the next promotion can be made by contacting Sharon Yandell on 01908 613323 or by emailing sharon.y@yandellmedia.com. The message is book early, as both events are set to be a complete sell-out.

For more information about the GLT Show 2019 visit www.grouptravelshow.com