The Agatha Christie play, Witness for The Prosecution has extended its booking period after a successful first year in London's County Hall.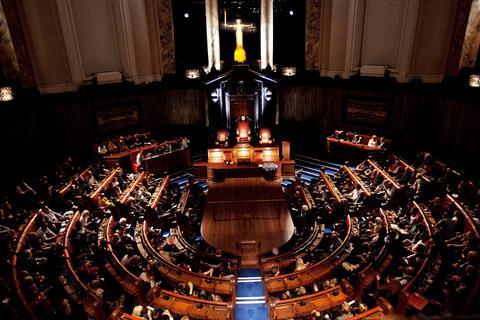 More tickets have now been released for the production which is now running until 1st September 2019.
Synopsis: Witness for the Prosecution
Leonard Vole is accused of murdering a widow to inherit her wealth. The stakes are high. Will Leonard survive the shocking witness testimony? Will he be able to convince the jury of his innocence and escape the hangman's noose?
As well as the extension announcement, a new cast has been revealed, who will joining from 20th November.
The new cast includes: Emma Rigby (Hollyoaks, Once Upon A Time in Wonderland) who will play Romaine Vole, Daniel Solbe as the accused Leonard Vole, Jasper Britton (Pack of Lies, The Libertine) as Sir Wilfrid Robarts, William Chubb (Othello, This House) as Mr Myers QC, Christopher Ravenscroft (High Society, The Ruth Rendell Mysteries) as Mr Justice Wainwright and Ewan Stewart (Titanic, Let The Right One In) as Mr Mayhew.
The new cast will also include Richard Banks, Chloé Booyens, Joanna Brookes, Miriam Cooper, Liam Lau Fernandez, Phoebe Marshall, Hugh Osborne, Simon Roberts, Leo Turner and Jamie Zubairi.
Group Leisure & Travel says…
Group Leisure & Travel review had the pleasure of seeing the show back in July. GLT's Laura Sexton commented: "You'll leave the courtroom in a state of shock, both from finding out 'whodunnit' and from how impeccable the production is.
"With a memorising plot, well executed stage direction, and exceptional acting, Witness for the Prosecution easily tops my list as one of the most insanely brilliant pieces of theatre I have ever witnessed."
You can read the full review here.
Group information
Group tickets are available, and details can be found on the Witness for the Prosecution website.
For more information, visit www.witnesscountyhall.com.