The Group Leisure & Travel Awards recognise the best providers, attractions and destinations for groups, as voted for by readers of Group Leisure & Travel.
The initiative is consistently backed by some of the biggest brands in travel and allows people who organise group trips and holidays the opportunity of telling us who, what and where is best based on their own experiences.
Each spring readers are given the opportunity to vote, nominate and enter this year's Awards, with everything culminating when the winners are revealed during a glitzy ceremony and dinner.
Award Categories reflect the most popular areas for groups and include accolades such as Best Museum or Gallery, Best Coach or Tour Operator - UK Tours, and Best Historic Attraction or Venue. See our Category Guide for full details of each award.
Special awards for individuals
There are two awards for individuals each year. The prestigious Group Travel Organiser of the Year Award® is always a major highlight, and comes with a prize of £2,000 for the winner to spend on a holiday. Since the category was created in 1998 it has rewarded GTOs who have organised trips and holidays for all sorts of people, making a real difference to the lives of so many.
The Excellence Award recognises service to group travel organisers by an individual working in the group travel trade. Established in 2008, the award shines a spotlight on travel industry professionals who go the extra mile for their customers. Finalists are nominated by GTOs and others in the travel industry and then handpicked by the Group Leisure & Travel team, based on the experiences and information shared by readers.
Travel trade suppliers, venues and attractions: become a partner and support the awards
Official sponsorship packages are a great way for companies and brands to connect with and support the most important awards in group travel and leisure.
It gives you a massive range of branding across a multitude of platforms, leading right up to the dinner itself when partners have their own private tables and present the category they have chosen.
Go to our Awards Partners page to find out what you get and why you should support this important initiative.
A special thanks to our 2019 Awards Partners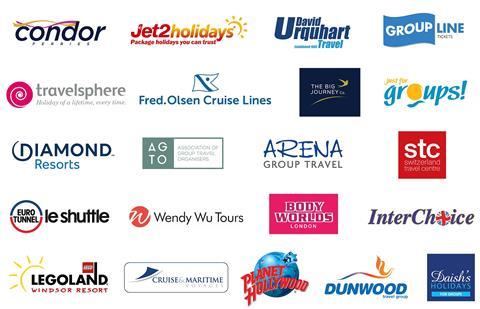 The 2019 awards
The 2019 Group Leisure & Travel Awards ceremony was held on 9th October at the DoubleTree by Hilton hotel at Stadium MK, Milton Keynes. 21 accolades were handed out on the night which was full of fizz, delicious food and entertainment.
Gracing the stage to pick up trophies for the second-year running were LEGOLAND Windsor Resort, which retained the title of the Best UK Attraction for Children & Families and Group Line, named Best Ticketing Agency for 2019.
A rare Outstanding Contribution to Group Travel award was presented to Dave Ashcroft, who has been with P&O Ferries for over 30 years.
The awards were presented by former rugby international and TV presenter, Martin Bayfield alongside Group Leisure & Travel Magazine publisher Rob Yandell.
Individual awards were presented on the night to Ellie Fulcher of Fred. Olsen Cruise Lines who won The Excellence Award, for great service to people organising group experiences.
The hotly anticipated Group Travel Organiser of the Year Award® was awarded to Sue Shapland of the Exmoor Extroverts. Sue was chosen by a judging panel for her commitment and passion in organising trips for members of her group to a whole range of destinations.
To see a full list of finalists and winners click here.
For information about voting, entries or nominations please telephone the editorial team on 01908 613323 or send an email to awards@groupleisureandtravel.com.
If you would like more information about becoming an official Awards Partner click here or speak to Sharon Yandell, who will be happy to help, on 01908-613323 or e-mail sharon.y@yandellmedia.com.
For Awards Dinner & Ceremony event and ticket information telephone Emma Cash on 01908 613323 or e-mail emma.c@yandellmedia.com.