Rovos Rail celebrates its 30th anniversary this year and recreates the golden age of travel in spectacular style, writes Jeannine Williamson.
As the train passes Kamfers Dam we catch our first sight of flocks of pink birds stretching as far as the eye can see. Further on, wildebeest graze on the scrubland of the flat veldt set against the spectacular backdrop of mountains. Afterwards we turn our attention back to the opulent splendour of our Edwardian-style carriage. This is certainly no commuter train.
We're aboard one of the five - soon to be six trains - operated by Rovos Rail, the privately owned company that offers eight trips of varying lengths around South Africa. Our journey is a relatively whistle-stop tour from Pretoria to Cape Town, but we pack in plenty of sights with plenty of time to take them in as the train only travels at 37mph.
The flamingos, on the wetland near the old diamond mining town of Kimberley, are among the highlights. There are round 23,000 of them at one of the only four breeding sites in Africa for lesser flamingos. It's an extraordinary spectacle.
Later we disembark at Kimberley, the capital of the Northern Cape Province, where the first diamond was discovered in 1867 leading to a frenzied rush. We enter the glittering inner sanctum of a guarded vault containing more than 35,000 stones and afterwards gaze into the 700ft chasm of 'Big Hole', said to be the world's largest hand-dug mine. Many South African diamonds take centrepiece in the Queen's Crown Jewels, and although I couldn't afford any of the much smaller ones on sale in the gift shop, I still felt like royalty as I reboarded the Pride of Africa train and was handed a cold towel and equally chilled glass of sparkling wine - South African of course.
"A rail journey is a wonderful way to experience South Africa and they certainly don't get any better than this."
In 1999 Rovos acquired a 60-acre derelict rail yard at Pretoria which has been renovated and is now the company base, with engine sheds, a beautiful waiting room and museum run by a retired driver. Our group felt privileged to be shown around by the hospitable owner Rohan Vos, whose inspirational tale of the hurdles and passion to get the restored trains and carriages running set the scene for the trip.
Our 18-carriage train is nothing short of sublime, with rich wood, shining brass and twinkling lights running through the bar, lounge, dining cars and suites. At night passengers are encouraged to dress for dinner and after sunset, as the rhythmic clickety-clack sounds of the wheels blend with the chink of ice cubes in cocktails, the train has the air of an Agatha Christie story (naturally, without a murder!).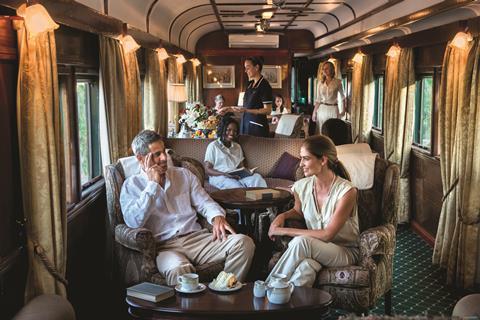 GTOs can book trips on the train through Great Rail Journeys, with fares covering flights, all meals and drinks on the train and hotel accommodation at the charming Courtyard Hotel Arcadia in Pretoria, and Cape Town's five-star Radisson Blu Hotel Waterfront. Groups are guaranteed reserved seating in the dining cars and shorter trips can be booked direct through Rovos with one free place for every 15 paying passengers.
As we rolled through the lush Cape winelands we certainly didn't want our journey to end and it was a real wrench to leave when we reached the end of the line.

With a background in newspaper and magazine journalism, Jeannine is an experienced and accomplished travel writer specialising in river and ocean cruising. She has written for Group Leisure & Travel for over 15 years and contributes regularly to a wide variety of consumer and trade publications including national newspapers, magazines and websites.