An experience all foodies must have, says Laura Sexton following Group Leisure's latest Reader Club trip to Melton Mowbray and the surrounding area.
Melton Mowbray is often labelled the rural food capital and it's easy to see why. The Leicestershire town is famous for its pork pies but as I discovered, there is much more to it than delicious pastries.
After a tasty two-day familiarisation trip in the company of 30 of our Group Leisure readers, we were all left feeling suitably full and in no doubt that groups will enjoy an area that's rich in history, as it is in produce.
'Paint the town red'
A walking tour of Melton was first on the agenda and our guide was exceptionally knowledgeable, pointing out iconic locations, such as the Anne of Cleves pub, once a priory gifted to Anne by Henry VIII, and a building where a couple of huntsmen are once believed to have attempted to take a horse up the stairs. Turns out getting the horse out again was problematic, and a crane was reportedly brought in to remove the poor animal.
A highlight of the tour was seeing St Mary's Church towering above the trees, showcasing its grand structure dating from both the 11th and 16th centuries. The church is set to re-open on 11th November, after a refurbishment, and will host a range of group friendly events and festivals.
"A highlight of the weekend for me was Belvoir Castle and its stunning gardens. Belvoir Brewery was also excellent and I think it would be a good place for groups to stop off for a relaxing few hours. There is certainly lots to do – it's an excellent area for those wanting a shorter trip."

Sue Povey, Out and About with Sue
We also discovered that the phrase "paint the town red" has its origins in Melton Mowbray. As the story goes, a Marquess once had too much to drink and took to the streets of Melton with some red paint and started to quite literally paint the town red.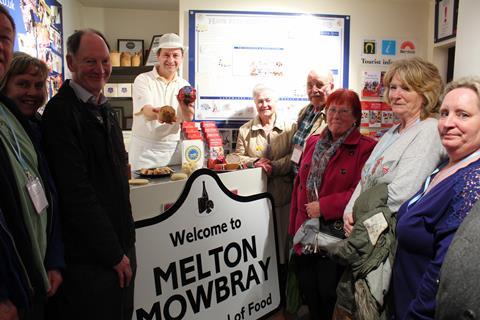 A taste of Melton
The Harboro Hotel provided us with lunch, giving us the chance to rest our feet after a morning of walking. The enormous platters were delicious.
The next part of our trip saw us split into two groups, as the two items on our agenda were more suited for groups of about 15. The Melton Cheeseboard awaited us with samples of Stilton and Red Leicester, which went down a treat. The experience provided some intriguing insight into cheese making and the different locations in which the variants are made. Did you know that Stilton isn't actually made in Stilton?
"The most interesting part of the trip was visiting Belvoir Castle – we're very interested in history, and we would like to come back with our group in the future. Sysonby Knoll Hotel & Restaurant is very nice, and the weekend overall has been wonderful."

Mike and Gill Smith, Cranwell RAF Association
A trip to Melton Mowbray of course would not have been complete without a trip to Ye Olde Pork Pie Shoppe to watch a demonstration on the famous Melton Mowbray Pork Pie. As someone who had never tried a pork pie before, it was fascinating to see the work that goes into making them and to learn how they take four days to make. This was unsurprisingly followed by the very strong urge to sample one, which of course we did. The shop is certainly worth a visit for pork pie lovers and foodies, although I'd recommend splitting your group in two so that you can all see the demonstration clearly.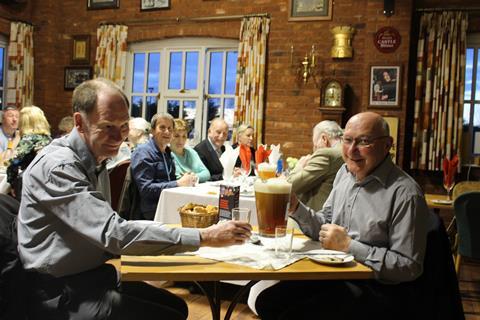 Cheers!
Our Saturday evening comprised a trip to Belvoir Brewery – it's pronounced 'beaver' for anyone who, like myself, has been pronouncing it bel-voir. Our group was greeted and guided by Di, one of the owners of the brewery. You don't have to be an ale drinker to enjoy yourself and understanding more about the process of brewing certainly complemented the food-based trip.
The evening at the brewery did not stop there; following the tour we sat down in the authentic brick hall to have dinner with an amazing steak and ale pie the star.
The unique setting was a hit; the room was filled with the sound of merriment and laughter. The unlimited beer may have had something to do with that, but I put it down to fantastic hospitality and great company.
Fit for a Duke
Sunday morning took us all to Belvoir Castle, which has to be one of the most impressive I've seen. Located on top of a hill, it gives the Dukes of Rutland, who have occupied the building since 1067, a 360 degree view across the neighbouring counties.
The tour took us through the castle, visiting the grand rooms and galleries, all walled with works of art, tapestries and flags, giving us the chance to envision a life of nobility. The Capability Brown gardens and landscapes were complemented by great weather and groups with an interest in gardens will be in their element.
"I thoroughly enjoyed visiting the Belvoir Brewery; the tour guide was fantastic. I also really enjoyed the walking tour of Melton Mowbray, although groups should note that this involves quite a bit of standing and walking. We were treated very well by everyone throughout the trip, and I'm looking forward to booking a return day trip in the future."

Jan Taylor, Derbyshire NHS Retirement Association
Wymondham Windmill was next and although the mill was under construction during our visit, it was still an impressive structure. Visitors are invited to climb up the windmill, although the ladders are steep and narrow. It was a pleasant place to stop for tea and biscuits, and is perhaps suited to smaller group of
An unexpected yet tasty end
Afternoon tea was planned at the Scalford Hall Hotel as the final part of our weekend itinerary. Unfortunately, a breakdown in communication meant there was no afternoon tea ready but this was swiftly replaced with a carvery. It did divide opinion; some were delighted with the option of a roast dinner, while others were disappointed although it can't be denied that the food was delicious,
A tasty time was had in an area that offers so much it may surprise you.
Where to stay?
The Sysonby Knoll Hotel & Restaurant provided a relaxing stay for us over the weekend. Its close proximity to Melton Mowbray meant we didn't have far to travel on the coach - you could even walk into the town if you desire. Yet despite being close to the town, the hotel still had a countryside feel to it, and I found looking out over the hills as I ate breakfast to be a personal highlight. I would recommend it to groups who enjoy a peaceful retreat but also want to be close by to the town's amenities.
Useful Contact:
Leicestershire Promotions: 0116 299 6666
janine.williams@l-p-l.com