ZSL London Zoo has opened its new Animal Adventure mini zoo, consisting of a nature-inspired adventure play park, a Splash Zone and more than 50 animals on display.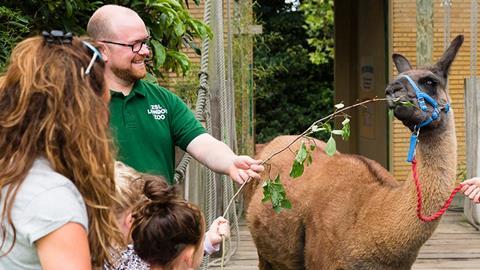 The new 32,000 sq ft space is home to meerkats, porcupines, eagle owls, a mongoose, coatis and more.
As well as the new play area and Splash Zone, there's a new café and amphitheatre, which will host daily talks.
Kathryn England, chief operating officer for ZSL London Zoo, said: "Our new children's zoo has been designed to help young animal lovers develop an understanding and love of nature that they can carry into adulthood and our keepers will share their knowledge of the animal kingdom with our visitors.
"With a packed schedule of animal talks, meet and greets and play activities designed to teach little ones about the natural world, Animal Adventure is a real nature haven for youngsters in the heart of the city."
More about Animal Adventure
Reimagined and revamped following a fire in December 2017, Animal Adventure is built on the site of the zoo's original Children's Zoo – the first of its kind when it opened in 1938.
A child-sized hot air balloon and a replica of Charles Darwin's boat, HMS Beagle, will make up part of the new play area, 'transporting children to animal kingdoms around the world and connecting them to animals through up-close experiences.'
The open-air amphitheatre will host daily talks from zookeepers who will reveal how llamas trek across the Andes and why young meerkats set out on their own to find a mate.
The Splash Zone features a range of shooting water fountains that fire water into the air, keeping children cool on a hot day. Animal Adventure is included in the general entry admission price to the zoo.
ZSL London Zoo for groups
Groups of ten or more receive discounted entry to the zoo. Posters and leaflets can also be provided by the zoo to help promote an upcoming trip.