Visitor registration is open for the most popular exhibition for people who organise group trips and holidays. Expect to meet a range of exhibitors and listen to expert speakers on Thursday 7th October at the Marshall Arena in Milton Keynes.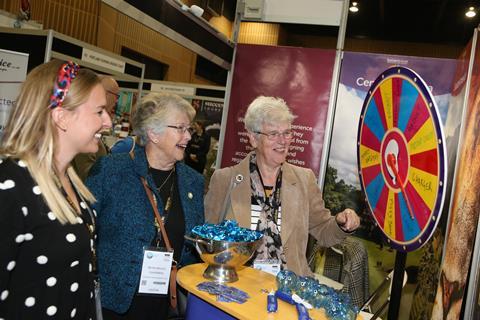 The free to attend travel exhibition is the biggest and most popular event in the UK for group organisers and coach operators and returns to the Marshall Arena in Milton Keynes this autumn.
It will once again feature celebrity guest speakers including travel pundit Simon Calder as well as a wide range of exhibitors who will have plenty to offer group travel organisers planning visits and trips for 2022 and beyond.
Flog It! presenter Paul Martin is also confirmed for the theatre. Seminars are free and open to all visitors to the exhibition, which also offers free entry for GTOs.
GLT Show is the most popular
More than half of those who took part in the Restarting Group Trips & Holidays survey said that the GLT Show is their preferred travel exhibition to visit.
This latest survey, organised by Group Leisure & Travel, asked GTOs for their thoughts about restarting trips, vaccine confidence and other aspects of travel including what they had missed the most over the last year.
GTO, Marian Durbidge who runs the Herts Theatre Club, is a regular at the show and said she was so pleased it was going ahead this year "as then we will feel that everything is back to normal".
GLT Show director Graham Yandell said: "It's great to hear so many group organisers confirm that once again the GLT Show is their preferred travel exhibition by far. Visitors can expect another successful and enjoyable event this year with preparations well progressed for a bumper show in Milton Keynes this 7th October."