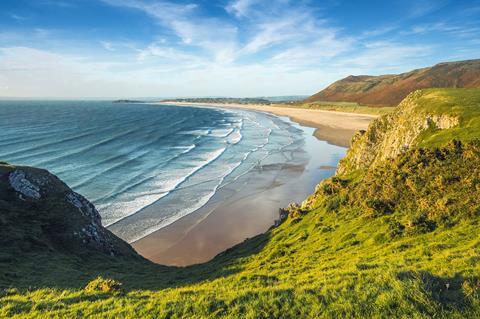 Visit Wales has launched its Year of the Sea 2018 campaign, which will celebrate everything dedicated to the sea in a year full of events, openings and activities.
Following the previous themes of Year of Adventure 2016 and Year of Legends 2017, Year of the Sea 2018 will celebrate the country's coastline, maritime heritage, sea-bound activities and coastal wildlife.
Run by tourist board Visit Wales, the year will showcase everything from an 870-mile long coastal path (said to be the first in the world to follow a country's coastline in its entirety) as well as 230 beaches and 50 islands.
The country's shores and rivers will also be celebrated and visitors will be able to learn about the proximity of Wales' countryside and coastline, and celebrate its coastal communities and culture.
Ideas for groups include visiting Wales' coastlines which play host to the pirate tales of Tenby and the infamous Sir Henry Morgan; the Victorian seaside resorts of Llandudno that inspired the stories of Alice in Wonderland; and ancient legends such as Bardsey's island of 20,000 saints and Cantre'r Gwaelod's sunken kingdom.
Other things to do during the Year of the Sea include wildlife watching - the coast is inhabited by puffins, dolphins, seals and even orca whales – and sampling seafood at one of the fisherman's pubs dotted along the coastline.
Don't miss the Volvo Ocean Race
The Year of the Sea promises to offer an inspiring programme of events, including the Volvo Ocean Race, which will come to the UK for the first time in a decade – and the first time ever to Cardiff. This maritime adventure pits sailors against each other as they race around the world.
The Volvo Ocean Race festival site, called the Race Village, will be located on the scenic Cardiff Bay Barrage in May 2018 to welcome the competitors into the city. The two week free event will host a variety of entertainment and Volvo Ocean Race-themed attractions.
For more information what groups can do in wales throughout 2018 visit www.visitwales.com/sea.