The hit production of Agatha Christie's Witness for the Prosecution has celebrated its second birthday at London's County Hall, extending its run until September 2020.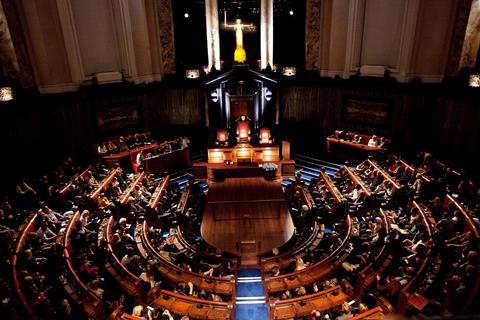 Lucy Bailey's (Ghost, Love From A Stranger, The Graduate) adaptation of the classic tale has now been seen by more than a quarter of a million audience members with in excess of 815 performances since it opened on 8th October 2017.
The director thrillingly places the audience in the thick of the action, or observing from the Press Gallery as the story unfolds around them.
From 17th November, the production will welcome new cast members too, including Taz Skylar as the accused Leonard Vole, Alexandra Guelff in the role of Romaine Vole, Jo Stone-Fewings as Sir Wilfrid Robarts QC, Kevin McMonagle playing Mr Myers, Jeffery Kissoon as Mr Justice Wainwright and Crispin Redman as Mr Mayhew.
They will be joined by Amelia Annowska, Mark Grindrod, Timothy Harker, George Howard, Jane Lambert, Owen Oakeshott, Tom Shepherd, Vivienne Smith, Craig Talbot and Cathy Walker.
About the show
As the production enters its third year in the iconic London venue, over 260,000 people have borne witness to the gripping courtroom drama and the case of Leonard Vole, accused of murder in cold blood.
The twists and turns of the case are played out as prosecution battles defence and witnesses take the stand to give their shocking testimonies.
'Leonard Vole is accused of murdering a widow to inherit her wealth. The stakes are high. Will he be able to convince the jury of his innocence and escape the hangman's noose?'
About the cast
Taz Skylar previously starred in Warheads, Lie Low and The Kill Team, and Alexandra Guelff was seen in Gaslight, Ghosts and The Busy Body.
Jo Stone-Fewings was part of the cast for Trust and Home I'm Darling, while Kevin McMonagle featured in A Midsummer Night's Dream and People, Places and Things.
Jeffery Kissoon has appeared in EastEnders and Grange Hill and Crispin Redman in Law & Order and Love From A Stranger.