Studley Castle Hotel, which is set to open this March, is the hotel chain's first new property for more than 15 years.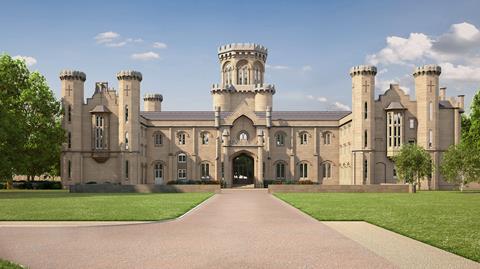 The hotel will officially open its doors to the public in March 2019, following a £50 million investment into Studley Castle.
The new hotel, which is set in 28 acres of Warwickshire countryside, will offer 209 rooms, four different room types, two restaurants, a cinema, bars and lounges, a spa, a range of outdoor pursuits such as laser clay, cycling and archery, and what is thought to be one of the largest live performance venues on the UK hotel scene.
The investment
Studley Castle was originally designed by London theatre architect Samuel Beazley and was built in the 1800s. The three year renovation project is the biggest investment undertaken by the Bourne Leisure organisation, Warner's parent company. Investment has seen the historic building transformed into a 21st century Warner Leisure Hotel.
The project has seen £20 million spent on restoring original parts of the castle, including the main building, the stables, and lodge.
An additional £6 million has been spent on reinstating the stained-glass windows, turrets, stone work and roof.
The remaining £24 million was spent transforming an historic building into a 21st century Warner Leisure Hotel, which will offer guests the opportunity to relax, explore, or be entertained in one location.
Speaking of the investment, managing director Simon Thompson, said: "Professional advice and skills have been used to ensure that we expertly restored the castle to its former glory.
"Now stands a historic castle with 21st century technology. The castle's historic and contemporary features are designed so that guests can relax in comfort and enjoy a luxurious stay."
Booking a stay
Two-night stays at Studley Castle are available from 22nd March 2019 and can be booked now.
For group bookings call 0330 100 9772 or email groups@warnerleisurehotels.co.uk.
For more information, visit warnerleisurehotels.co.uk/hotels/studley-castle-hotel.