Returning on 9th November, 2018, until the 6th January, 'The Festival of Light: A Fantastic Voyage' will take visitors on a journey through time and space.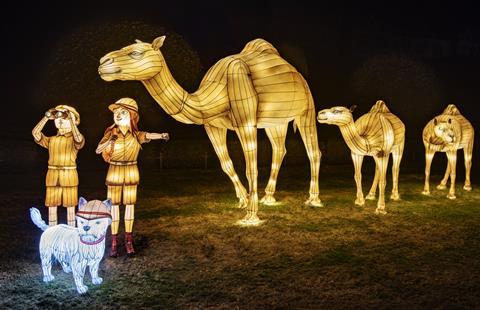 During the festive season, visitors will be able to experience the Safari Park and Longleat House during the day, and then explore the illuminated displays after dark.
The 2018 event will feature more than 1000 illuminated Chinese lanterns and the Wiltshire-based attraction is claiming that it will be their most ambitious ever Christmas event.
The Festival of Light highlights
The event, 'The Festival of Light: A Fantastic Voyage' will initially open Fridays to Sundays from 9th to 25th November. Then, from 30th November to 6th January it will be open daily (excluding Christmas Day).
Visitors will join Harry and Bea, an adventurous brother and sister duo, and their dog Monty, as they embark on their journey.
Walk-through exhibits will take groups under the sea, back to the age of dinosaurs, to the Arctic and to witness a castle besieged by armour-clad knights.
Displays will feature scenes from South America, Japan, India and Papua New Guinea.
Other highlights will be the 28-metre-long steam train, biplane and hot air balloon.
More festive fun
This year will also see the return of the Musical Christmas Tree Show, complete with snow, and the Santa Train, which will be on hand to transport visitors to meet Father Christmas in his woodland grotto.
The 'Flight before Christmas' storytelling experience will also feature in the 2018 event, complete with real flying barn and tawny owls.
Other highlights include the drive-through Winter Safari, a visit to Monkey Temple and Jungle Kingdom, a Jungle Cruise and an illuminated Hedge Maze.
Longleat House itself will also be decorated in style for a 1920s Christmas, using descriptions and objects from Longleat's own archives. Live characters will be dotted throughout the house, to truly bring the experience to life.
Group benefits
Groups of 12 or more can benefit from exclusive perks and up to 30% discount. Pre-booking is required.
GTOs wishing to book tickets should visit, www.longleat.co.uk/festival-of-light.