Cinderella, the musical from Andrew Lloyd Webber is to cut its West End run short with its last performance at the Gillian Lynne Theatre on 12th June.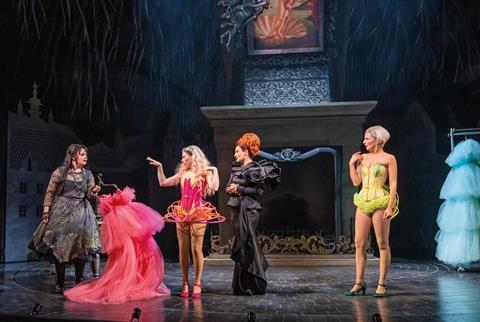 The production is described as a 'complete reinvention' of the classic fairytale, written by and based on an original idea from Emerald Fennell, the Oscar winning writer of the film Promising Young Woman.
Set in the idyllic surroundings of Belleville, we learn that Cinderella is a loud-mouthed, so-called yob who likes creating problems for the town's aggressively perfect inhabitants. She's misunderstood and a far cry from the sweet and innocent girl portrayed for generations.
Carrie Hope Fletcher previously talked to Group Leisure & Travel about her role as Cinderella, saying: "My version of Cinderella is not the version that everybody knows and loves, I think you have to come along with no expectations. She takes all the typical fairy tale traits, such as the slippers, the royal ball and the transformation, and completely turns them on their heads and makes them a little bit darker."
The musical reunited composer Lloyd Webber with director Laurence Connor and choreographer JoAnn M Hunter who previously worked on the Olivier Award winning international hit School of Rock and the sold-out production of Joseph and the Amazing Technicolor Dreamcoat.
Andrew Lloyd Webber's statement in full:
"I am incredibly proud of Cinderella. Not only did it get some of the best reviews of my career, but we led the charge to reopen the West End, ensuring that theatre and live entertainment remained relevant and in the news. While mounting a new show in the midst of COVID has been an unbelievable challenge, we held the Government's feet to the flames throughout their changes of heart during the pandemic. Now, I am really excited to get to work putting together a new production with No Guarantees (Christine Schwarzman, President, Darren Johnston, Executive Vice President) for Broadway. Thank you very much to everyone involved, particularly our UK audiences who have loved and supported the show. See you next March on Broadway!"
The show had recently attracted headlines when Lloyd Webber apparently criticised the cast via a call played over the speakers of the theatre after a review in the New York Post.
There has now been further controversy with some current cast members, and those due to join the production saying they found out about the show's closure via social media.
Cinderella is still offering group discounts for tickets and even a group of four people can take advantage of reduced pricing.
For more information about the show visit andrewlloydwebberscinderella.com.