Plans for new ships and new innovations were on the agenda at the annual Cruise Lines International Association (CLIA) UK & Ireland River Cruise Conference.
Nearly 300 industry representatives and delegates attended the two-day convention which was held in Paris for the first time. Cruise writer Jeannine Williamson reports back.
Group-friendly line Amadeus River Cruises announced plans for a new ship,Amadeus Imperial, which will be launched in 2020 and join the premium branded 'Silver' ships to sail on the Danube, Rhine and Main rivers in addition to the Dutch and Belgian waterways. The new vessel is in addition to Amadeus Star, which will debut next year.
Amadeus is also undertaking a complete refurbishment of the Amadeus Diamond, which sails on the Seine, ready for the 2019 season. In addition to new furnishings throughout, the ship will have the latest WiFi technology including tablets placed around the ship that will help GTOs plan excursions and time in ports of call.
The line sells its cruises through Fred.\ River Cruises, which last month became the official UK general sales agent for American Cruise Lines which offers cruises starting at five days on the iconic Mississippi river and beyond, covering a total of 35 sailings across 25 states in traditional and modern ships. GTOs can book all sailings with transatlantic flights as well as pre and/or post cruise hotel stays.
African adventures
CroisiEurope, another line that's popular with groups, revealed it would be launching a second ship in Africa, the Zimbabwean Dream, following the success of the African Dream that began sailing this year.
Closer to home, the new Amalia Rodrigues will launch in 2019 and become CroisiEurope's sixth ship on the Douro and the existing vessel Princesse d'Aquitaine will be relocated to become its fourth ship on the Rhone sailing under the new name Rhone Princesse. The line has also completely refurbished the Victor Hugo, which sails in France, and given the vessel a totally fresh and contemporary look.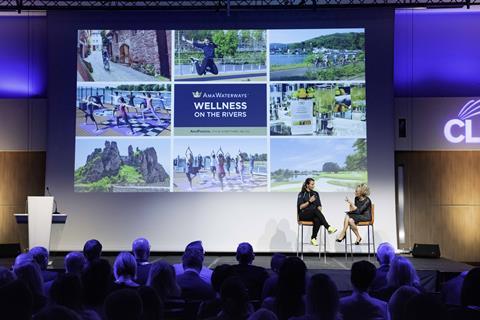 Wellness cruises
During the conference delegates heard that health and fitness was a key trend in river cruising, with AmaWaterways introducing a dedicated programme led by wellness hosts across most of its European fleet for 2019. This will give active groups the option to join up to six different on board classes a day, such as stretching and yoga, in addition to taking part in shore excursions such as fast-paced walks. All of these activities will be free and included in the fare.
Avalon Waterways is also going to have 'adventure hosts' on its ships, and for groups interested in dedicated sailings with the accent on keeping fit, the line's 'Active Discovery' cruises that are currently available on the Rhine and Danube will be extended to the Rhone for 2019.
Of interest to groups that prefer to have flexible mealtimes, Avalon is also introducing flex-dining where passengers can enjoy a waiter-served evening meal at any time from 7pm to 9pm, rather than the fixed dinner time that is commonplace on many river sailings.
Brexit assurance offer
For GTOs worried about the potential impact of Brexit increasing the cost of trips the Scenic Group, which operates the all-inclusive Scenic brand and sister river cruise line Emerald Waterways, has a 'Brexit Assurance' which guarantees that after bookings are made any increased costs caused by Brexit will be absorbed by the company and customers will not have to pay any additional price increases, surcharges or supplements.
Last year the number of UK passengers taking a river cruise rose by a record-breaking 21% to 210,000. Industry pundits at the conference said that with the introduction of so many new ships -17 this year and 18 for 2019 - that figure could rise to an unprecedented 250,000 next year.
CLIA UK & Ireland is a member of CLIA, the world's largest cruise industry trade association.