The first RHS garden to open in 17 years has announced that it will be offering groups behind the scenes pre-opening tours from April 2019.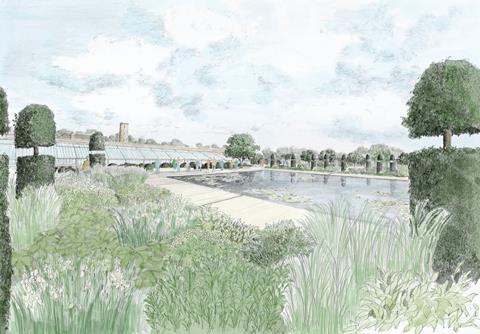 The sneak peek experiences at RHS Bridgewater, near Salford in Manchester, will last three and a half hours from end to end and include a guided tour of the site and entrance to an exhibition on the project.
During the tour, groups of 20 people at a time will be able to see how the 154-acre garden is being developed on the grounds of what was once Worsley New Hall – a grand mansion that was built in the mid-19th century and demolished in the 1940s.
Parties will get to walk around areas of the site that will become the kitchen garden, the wellness garden and the centrepiece Paradise Garden. They'll get to see how the hall's historical lake is being sympathetically restored and learn how a brand-new lake, stream, and stream-side Chinese garden is progressing.
Depending on group fitness, visitors will also be able to see the Cold War bunker that was built on the site in the 1950s and walk around the area where Worsley New Hall once stood, fronted by grand, sweeping, ornamental terraces.
Other highlights of the experience will include the opportunity to see RHS Bridgewater's rare breed Berkshire pigs at work – they're responsible for turning over the land in areas of the site like the spot earmarked for the orchard – and a look at the Grade 2 listed entrance gates.
A few of the site's secrets will be spilled during tours, too, such as how the development team have dealt with the arsenic that the Victorians used to put into the soil for weed control.
In the exhibition, meanwhile, groups will be able to dig deeper into the history of the site – its timeline can be traced back three million years. They'll be able to see photos and hear stories and quotes from people who visited the hall and its grounds before it was torn down – there's even a quote from Queen Victoria. Plus, they'll be able to find out more about the team of designers and horticulturists who are working to bring the project to life.
Pre-opening group tours will take place on Mondays between April and September 2019. Tour spots are priced at £5 per person.