The world famous restaurant chain will open the North East's first ever Hard Rock Cafe in Newcastle at the Quayside's historic Guildhall on Friday 21st May.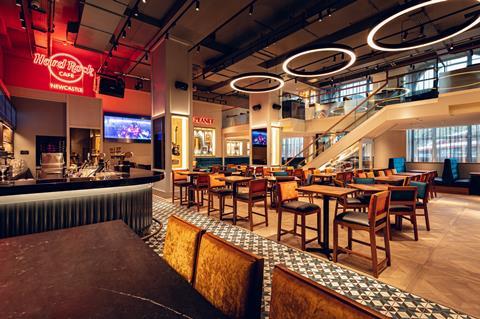 Along with memorabilia from some of the music industry's biggest names, it will feature a US-inspired menu, cocktails and a culinary tribute to its new home city.
Situated across two floors of the Grade I listed building, the restaurant can take up to 180 covers, with the menu including the original fresh Black Angus steak burger, with all the trimmings served with Hard Rock® signature steak sauce plus Hard Rock's well-known steak burgers.
The new restaurant joins several others in England including the original Old Park Lane location as well as the recent Piccadily Circus eatery which opened in 2019.
No place like home
A highlight of the menu at new venue is a completely unique addition in the form of the black and white Whey Aye Burger, one of the Hard Rock® local legendary burgers which has been designed specifically for the first North East restaurant.
The burger comes with Northumberland cheese, Newcastle Brown Ale onion compote, horseradish cream with a spring onion, cheddar cheese and pease pudding beignet – served in a toasted charcoal and sesame seed bun.
Anibal Fernandez, vice president of franchise operations at Hard Rock International, said: "We feel extremely proud to finally be able to announce the opening of this iconic cafe in the beautiful city of Newcastle."
"We look forward once more to welcoming our Hard Rock fans in Newcastle, United Kingdom, in a 'safe & sound' environment."
Along with a selection of bottled beers and wines, there will be a range of 'boozy milkshakes' and signature cocktails including Hurricane – a 1940s New Orleans classic comprised of Bacardi Superior Rum, a blend of orange, mango, pineapple juice and grenadine, finished with a float of Captain Morgan Dark Rum and Amaretto.
In true Hard Rock fashion, diners will be seated alongside glass cabinets filled with rock and roll memorabilia and, for those keen to snap up a memento of their visit, there will be a Hard Rock Rock Shop selling themed merchandise.
A range of options are available for groups, with the team able to help tailor your needs for the visit. This includes custom menus based on the group size.
Groups can fill out a form via the website to get more information about how they can plan their dining experience.