The Great Sussex Wine Tour has been created to offer groups the chance to sample wine and local produce and enjoy panoramic views in the South Downs.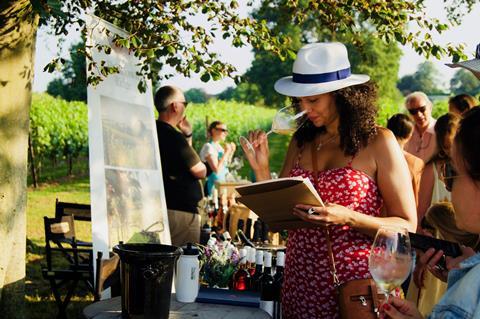 The self-guided trail, designed by The Great Sussex Way, connects local vineyards, including Ashling Park Estate, Tinwood Estate and Upperton Vineyards, with a new cycle route for visitors to explore the area and sample local wines en route.
Danielle Dunfield, CEO of The Great Sussex Way, said: "In West Sussex we produce the finest wines in England, so it is fantastic to offer visitors a unique way to enjoy our award-winning vineyards. As the Capital of English Sparkling Wine, it is incumbent on us to take the lead and bring these phenomenal wineries together to offer the full grape to glass experience.
"The Great Sussex Wine Tour has been designed holistically to encompass our brilliant local businesses. Visitors can create their perfect get-away with stop-offs at our classic country pubs, farm shops and much more. After the year we've all just had, this is the perfect great escape."
Cycle routes include the relatively flat plains, which are overlooked by the South Downs to the north, and cover around eight miles. There are two additional cycle routes to Upperton which are longer, more challenging and include both off-road and on-road sections.
As well as following the trails by bicycle or e-bike, groups can opt to tour the area by coach and pre-book visits at the wineries:
Ashling Park Estate, West Ashling
Ashling Park caters for smaller groups of up to 16; larger groups can be accommodated by prior arrangement and are split into smaller groups for tours. The winery is fully accessible and fairly flat to walk around. Tours are offered from Thursday to Sunday with private tours and bespoke catering for groups available by prior arrangement.
Upperton Vineyards, Tillington
Upperton offers private vineyard tours from May to September and wine tastings with owner Andy Rogers who guides visitors through the set-up, management and ethos of the vineyard which he planted in 2005. Expect to learn about the sparkling wine process while enjoying a tasting of two sparkling wines against the backdrop of the South Downs. The winery offers plenty of parking and can accommodate groups of up to 20 for tastings in the shop during the summer months when the terrace is open (up to ten people in the winter).
Tinwood Estate, Halnaker
Tinwood can cater for a range of group sizes – the tasting room can hold groups of up to 48 during the winter months and 65 during summer. There is ample parking for mini-buses and coaches. As well as tastings, the winery offers their signature cheese board which is designed to complement their wines and group travel organisers are encouraged to contact the winery directly to discuss any bespoke requests. On-site lodges for overnight stays are also available to book.