The steam train service will be the first in modern history to travel between London Waterloo and Windsor.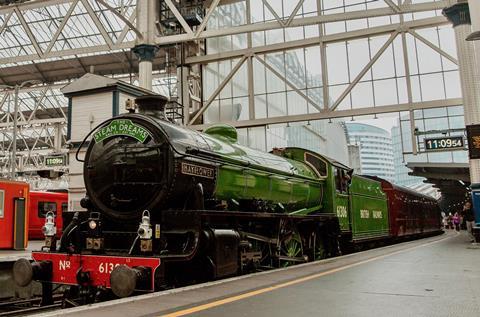 This summer, The Steam Dreams Rail Co. is launching a new experience, The Royal Windsor Steam Express.
It will be the first regular steam train service in modern history between Waterloo and Windsor stations.
The company will also be launching another experience - The Sunset Steam Express - described as a sunset dining experience offering fine wines as you travel through the scenic Surrey Hills.
Both of these steam train packages will run on various dates between 4th June and 3rd September, with group packages available for both.
The Royal Windsor Steam Express
This experience will depart from Waterloo each Tuesday at three selected times, between June and September. It will include four classes of travel including an elegant 1950s Pullman Style Dining carriage, as well as First Class Restaurant Cars.
The Pullman Style Dining experience will include a Champagne brunch, and table service for snacks and drinks will be available throughout the rest of the train, with picnic lunches welcome too.
The Sunset Steam Express
This experience will depart from Waterloo on Tuesday evenings and will consist of a four-hour round trip through the Surrey Hills, known as an Area of Outstanding Natural Beauty.
Dinner and fine wines will be served en route in the 1950s Pullman Style Dining carriages.
The steam express will head south across the suburbs of London before passing through Guildford and taking the steep climb through the Surrey Hills before descending the Vale of Holmesdale and returning to Waterloo via the market towns of Dorking and Reigate.
Information for GTOs
For a group package, an entire carriage can be booked out which can seat 42 people in the Pullman carriage, 48 in the Premier Dining, 31, 42 or 48 in First Class (depending on whether you want an open plan experience or not) and 64 in the Premium Standard carriage.
Carriages can also be themed to suit the occasion with special menus available in the Pullman Style and Premier carriages.
Trains can also be hired for exclusive used for large groups.
Websites:
www.royalwindsorsteamexpress.co.uk
www.sunsetsteamexpress.co.uk